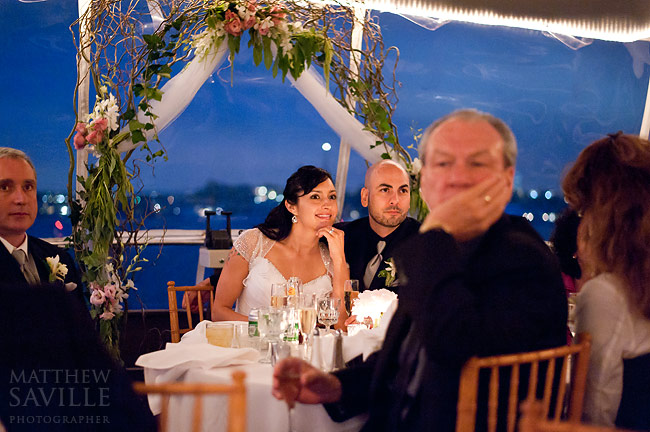 Below is a list of 5 wedding photographers that we rely on for inspiration, not only in photography, but also business and in just living life in general. Each of these photographers can be considered as being at the top of the industry being that all of them have been within the Top 10 Photographers by American Photo at some recent point in time. If you don't have these photographers blogs bookmarked, Twitter profiles followed, and Facebook friend befriended, then you have some work to do!
[Related Article: also see The Best Wedding Photography RSS Feeds]
Ben Chrisman – San Francisco, California
Ben Chrisman – https://www.benchrismanblog.com/ – We look to Ben's blog for his unique style of wedding photography matched with his even more unique style of post production. Ben has an amazing ability to find and create unique frames for his subjects that create an intimate voyeuristic quality as well as draw the viewer's eyes right into the subject of the image. You will find Ben often throwing the typical restrictive rules of photographic composition to the wind as he creates stunningly dramatic images with his creative usage of negative space. We also love Ben's ability to create dramatic compositions using off camera lighting with a mixture of under exposed backgrounds to enhance the atmospheric lighting in each scene. On the other side of his artistry is his dramatic post production style. Ben's signature mixture of warm color temperatures and deep blacks creates uniquely intimate and dramatic imagery.
Heather Waraksa – New York, New York
Heather Waraksa – https://www.heatherwaraksablog.com/ – One look at Heather's blog and you will wonder if her images are frames taken from big time Tinseltown movies. To us, Heather's style of wedding photography is best described as rogue Hollywood movie producer shaken with a heavy dash of fashion photographer. We love every bit of style this New York photog paints into her imagery. Along with her typical color popping photos, much of her post production style consists of fashion inspired cross and vintage processing techniques.
Jasmine Star – Los Angeles, California
Jasmine Star – https://www.jasminestarblog.com/ – Jasmine is uniquely open with her life which makes her seem more like a childhood friend that grew up next door, rather than a big time photographer. We love Jasmine and her ability to not only take amazing photographs, but also write inspiring stories and articles. In fact, at times we find ourselves sneaking peeks at her blog for the writing in and of itself! Don't let her writing fool you though, Jasmine is a uniquely talented photographer who's style of imagery can be described as being refreshingly candid and natural. We love her ability to truly capture the emotion within each moment. We especially adore Jasmine's ability to take amazing portraits. Describing Jasmine's post production style is like talking about fresh produce from your local farmers market, it is natural, clean, fresh and crisp with color.
Jerry Ghionis – Melbourne, Australia
Jerry Ghionis – https://www.jerryghionisblog.com/ – When I think of Jerry Ghionis, I think of a man with style from head to toe. Jerry's image from his logo on his website, to his hair style screams fashion. You will often catch Jerry recreating photographic stills inspired from classic Hollywood films. But, what truly makes Jerry – Jerry, is his unique background in fashion photography allows him to create amazing works of art behind the lens. In fact, I think most professional photographers including those on this list would probably agree and give Jerry a sincere nod at his ability to create something from nothing, literally. We are truly inspired at Jerry's ability to walk into rooms that look as though they were taken straight from the set of a post apocalyptic movie, and yet turn it into a work of sheer beauty. His ability to see something when there truly is nothing is unmatched. While you do need to attend his lectures, workshops or purchase his products to truly witness his creative genius, you can get a peek at his inner monologue through his blog. Jerry's style of photography is essentially defined by his unique fashion flair that he shows off throughout each and every one of his engagement and couples shoots. His post production style is very natural with just the right balance of contrast and blacks to make images pop.
Del Sol Photography – Riviera Maya, Mexico
Del Sol Photography – https://delsolphotography.com/blog/ – We love Del Sol's natural and candid wedding imagery, but we totally heart their creative abilities when it comes to engagement, trash the dress and couples shoots. I mean seriously, what other togs out there are taking brides under water for shoots!? Not many, that's for sure. The Del Sol team's technical skills and creative abilities truly are something to envy. Their style of photography is quite edgy, using a unique mixture of scenes and environments to create truly unique imagery. In addition, these guys are masters of the strobes as off camera lighting plays a large part in their photographic style. Their post production style typically boasts a high contrast look brought out with natural colors from the image.
I hope you enjoyed this article, if so, please share the love and feel free to comment and add additional insight below!
By: Lin and Jirsa Wedding Photography, Los Angeles and Orange County Wedding Photographers. Also, authors of Lin and Jirsa Blog