We all love the big roller bags for carrying our entire kit to the job, or for traveling long distances. But let's get real, you are not going to take a roller bag, let alone your entire kit, on a day trip to a local state park, or a photo walk down the streets of your city.
So, we all need a good, small bag; something that you can put a camera, maybe an extra lens or two, and some accessories for those day trips where you don't need everything. Today, we are going to be going over the best options for sling bags for your day trip adventures, so that unlike me, you don't have to buy a ton of bags to find the right one.
These bags are in no particular order, just these are the top 5 options, in my opinion.
LowePro Transit Sling 150 AW
Currently, this is my go to bag for day trips. It allows me to fit my Sony A7 II with a lens attached, as well as one or two extra lenses, and some important accessories (extra batteries, extra memory cards, my tablet, etc).
My biggest complaint with this bag, in particular, is that you have to put a rain cover on it to protect your gear fully from the weather. I live in the Pacific Northwest; torrential downpours (i.e. rain) is the cost of living in this beautiful region. Having to put an extra rain cover on can be annoying. That said, I love everything else about the LowePro Transit Sling 150 AW as a day trip bag. It's under $60 at B&H too, so it's also a great fit for your wallet.
Just as a side note, if you prefer to carry more with you than I do on day trips, you could go with the larger Transit Sling 250 AW, which is essentially the same, just fits more stuff.
Ruggard Triumph 55 Sling Bag
This is another great option for those of you looking for a day trip bag, or for shoots when you don't need to haul your entire kit. The Ruggard Triump 55 is a larger bag than the LowePro that I just mentioned, but if you have a big DSLR and big DSLR lenses, then this may be a better option for you.
This bag allows for a DSLR with a grip (so many bags fail at this), two lenses and two speedlights. I would think this should be more than enough room for a day trip, or bare bones shoot in a locations where it's hard to bring a full kit.
At $79 on B&H, it's still a great value, too.
Think Tank Photo TurnStyle 10 Sling
Think Tank is known for their amazing roller bags, but they also make some great sling bags as well. This, being my favorite from the bunch that they offer, allows you to carry a good amount of gear, but still has a great stylish look to it.
It doesn't necessarily look like a camera bag either, so you won't stick out in a crowd as the guy with a camera bag. To the casual pedestrian, it's just a sling backpack. This is especially important if you are going on a day trip to somewhere that you may have to worry about someone trying to steal your bag/gear.
You can pick one of these up for under $90 too, so we are still under the $100 mark!
Case Logic Luminosity Compact
This Case Logic bag is a great option. It allows for a DSLR, a couple of lenses, and several other accessories. I personally prefer the LowePro bag I mentioned above, but if this is more your style, they offer similar feature sets.
This bag is also under $60, making it a great deal for those of you who are budget minded.
Kata KT DL-3N1-22 Sling Backpack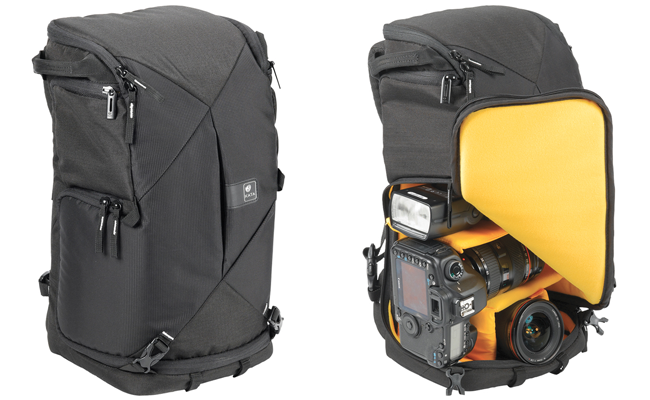 Now this is a serious day pack for someone going out on maybe a more extreme sort of day trip. The Kata KT DL-3N1-22 (isn't that a mouthful!) is a great option for those wanting to carry a good bit of gear, but still be able to take advantage of the size/weight savings that a sling bag gives you over a roller bag or a huge backpack.
It has the look of a good outdoor bag, and as mentioned, allows you to carry all the gear you will need for your rock climbing or outdoor photo shoot. It's also currently on sale, after a cool $40 instant savings you can get this bag for under $60; it normally retails for just under $100.
Conclusion
Hopefully, this list has helped point you in the right direction in your day trip bag search. If sling bags are not your thing, stay tuned over the next couple weeks for some more bag posts featuring my favorite options in other categories as well.
In the mean time, if you already own a sling, what kind is it? Leave a comment below with your favorite camera bags for day trips!