Welcome to Time Out with Tanya, where I've put my fast paced graphic design career on hold in favor of adventures in motherhood. I'm capturing every moment on camera and you can come along, if you'd like. Sign up for my weekly email here so you'll never miss a Time Out.
Heads up! Mother's Day in the United States is right around the corner. Are you thinking ahead? Or will you rush out to the grocery store for flowers the morning of (you know who you are…) Moms love a thoughtful gift, and if it involves photography, well, she'll love it even more. Here are my top 5 photo gift ideas for Mother's Day in 2014.
1. Give Her Photo Bling
Moms and Grandmas love their bling (that's code for sparkly jewelry) and pictures of their babies so why not combine them up into one gift they'll really love you for. My favorite photo jewelry is hand crafted right here in Spokane by a mom photographer/designer at Lexi Lou Jewels.
She's offering a new shape for hand made metallic photo necklaces and cuffs, just in time for Mother's Day and she's offering a coupon code for free shipping for SLR Lounge Readers. Use code SLRSHIPFREE at check out and keep in mind the ordering deadline to get your jewelry in time for Mother's Day is Friday, May 2nd.
2. Give Her the Gift of Knowledge
Is your special mom a budding newborn photographer? Or maybe she just wants to learn how to take better pictures of her own kids and babies. You won't find a better value on photography education than a workshop course from SLR Lounge. I learned so much about newborn photography from the Newborn Photography Workshop. Click here to view more details
3. Give Her a New Camera
This one is a total no brainer. Every mom I talk to wants a new camera. I'm not even kidding. You cannot go wrong here. Unless you buy her one she doesn't really want, so make sure you check out our comprehensive guide on which camera to buy for her specific needs, WHAT CAMERA SHOULD I BUY? THE ULTIMATE CAMERA PURCHASING GUIDE.
4. Give Her a Photography Session
Mom wants pictures. She wants pictures of her family. And, although she won't admit it, she wants to be in some of the pictures. If she's a photographer herself, there's probably not a lot of photographic proof she exists, so agreeing to or even scheduling a photo session yourself would really surprise mom! Depending on the person, she might freak out if you hire just anyone, so proceed with caution. But if you think she'd be happy with your choice of photographer, and you're not sure where to look, you might try a new photographer referral website called PhotogRefers.
At PhotogRefers, you can search for photographers in your area based on a wide range of criteria. If you're a pro photographer, you can even create a free account. I set one up last night in 10 minutes. It was easy! One cool feature of the site is the option to network with other photographers, too. Check out my free profile here.
5. Make a Photo Book for Her
Does a special mom in your life also happen to be your favorite person? I guarantee she would love a custom made photo book. This Mother's Day you could make a book about your favorite person and you could win $2,500 from Blurb. How cool is that? It's worth a shot, right? Mom will get a personalized gift she'll cherish forever, anyway, even if you don't win. I love Blurb because of all the design and publishing options they offer. The quality of their books is far superior to other consumer photo books, too. P.S. Here's a coupon code for 30% off!.
No matter how you honor your mom this Mother's Day, I hope you give her the love, attention and pampering she deserves!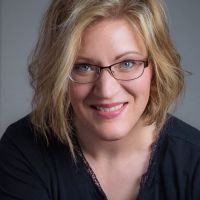 Tanya Goodall Smith
Tanya is the owner of WorkStory Branding Photography in Spokane, WA. Businesses hire her to create story-telling content that sells their high end products and services. She also teachings photographers her unique business model for making serious money as a corporate and personal branding photographer. Find her at
workstoryphotography.com
and
workstoryeducation.com