Wedding photographers are more than familiar with email spam, whether it's fake leads trying to nab credit card info, someone offering to edit images, or a service claiming they can produce quality leads for cheap, or even free. And that's how you may have already heard of Wedding Nook. Their viral email campaign, entitled "Tired of TheKnot?", may have hit your promotions folder recently, like it did ours.
At the time we received their email, we happened to be in a place with our own wedding business where we were, in fact, feeling rather exhausted at paying high fees for leads that didn't book. So we thought it couldn't hurt to check out their site, and we ended up creating an account to test it out, because, well, it's free.
Wedding Nook is based out of Coeur d'Alene, Idaho, and, from the perspective of a couple planning a wedding, Wedding Nook seeks to help streamline the process of couples finding the vendors that match their vision for their wedding. We actually chatted with Chuck Schmidt, Wedding Nook's CMO, and he related that their mission is,
…to be a fully automated wedding planning service and the only true and free network for both marrying couples and vendors, inspired by the simple frustrations as a vendor paying for ineffective online business advertisements to marrying couples going through the frustrating process of not being able to find services that actually fit within their criteria.
Wedding Nook launched a local beta test in January, 2016, and began an email campaign three months later, growing its vendor network by 1,100 percent (according to their press release) in seven months, without paying for a single ad.
Is it really free for couples to use? Yes. Is it really free for vendors to list? Yes. And we found the sign up process to be fast and intuitive. It took us just under an hour. You can check them out here: Wedding Nook.
The other question is whether or not they can sustain themselves as a free service with ad revenue alone. Time will tell, and to be fair, we should point out that they have an upgrade option for accounts with what they call their "PRO-Dashboard." The PRO-Dashboard provides vendor profile analytics, vendor ratings, a "PRO Badge," etc. And that cost is $299/year ($99 if you are one of the first one hundred vendors to get in on the discount).
What are your thoughts? Have you heard of Wedding Nook and signed up? Have you had success marketing your photography business with a  "free service"? We'd love for you to join in the conversation by commenting below. And, as always, feel free to continue the conversation over at Facebook on our every-growing SLR Lounge Photography Community page.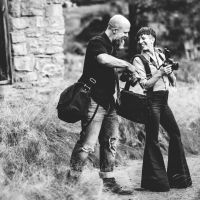 Amii & Andy Kauth
Amii & Andy are a wife and husband team of rad portrait and wedding photographers (Sunshine & Reign Photography) who absolutely love life and are generally just stoked! Yeah! When they aren't photographing or writing and teaching about photography, you'll find them off on a seriously legit adventure with their little ones, lifting weights in their garage, training jiu-jitsu, refining their archery skills, or surfing every chance they get. And on the rare chance they escape off on a "date night"? Yep! They'll find a wedding to crash (true fact). Website:
Sunshine & Reign Photography
Instagram:
@sunshineandreign