We are excited about our new series, Ask SLR Lounge, where you ask the questions and we answer them on Facebook Live. This is an open forum for you, our community, to ask us anything you want.
Join Premium
To submit your question, go to slrlounge.com/ask-slrlounge and leave your question in the comment section of the post. Check out our previous question where we get into 'Transitioning From Full Time Employee to Full-Time Photographer In 6 Steps' – here.
Our next question comes from Damien Jęcek who asks:
How often do you use A Wacom tablet for editing images in Lightroom? Do you D&B and CC images in LR? Is it worth to buy tablet when I am rarely going to PS for advanced editing?
Watch the Facebook Live video to see our answer to the question:
We use the Wacom Intuos Pro medium tablet for all our editing needs. If you plan on doing most of your work inside Lightroom the Wacom Tablet may not be what you are looking for, however, Photoshop users rely heavily on the product for detailed retouching, making it worth the price.
Wacom Tablet Usage in Lightroom
With Lightroom's RAW processing capabilities, images can be transformed from ordinary to extraordinary within minutes. Our Advanced Lightroom Processing Workshop shows exactly that as we take raw images and use only Lightroom's Develop module to create stunning pieces of art. While the Wacom tablet can be used for any Local Adjustment Brush related work, offering the ability to make quick cloning and healing modifications, instead, we recommend the Logitech G500. It's a weighted gaming mouse that allows you to make smooth fluid movements for all that painstaking retouching within Lightroom. A regular computer mouse makes it difficult to make smooth motions when creating pen like movements, but you'll have no such problem with this one.
Why the Wacom Tablet was meant for Photoshop
You'll see in the video, Lightroom doesn't have enough refining controls within its Local Adjustments for the Wacom tablet to be used for its full abilities. Lightroom is great for global adjustments made to the overall image, but when it comes down to it, Photoshop is unparalleled for fine-tuning. The Wacom works in tandem with Photoshop's clone & liquify tools, allowing you to retouch & refine with ease. The pen like movement helps especially for dodging and burning, giving you accuracy unattainable in Lightroom.
For commercial work and detailed retouching the Wacom tablet is a must, taking your post-producing workflow to a whole new efficiency level. You can see our review of the Intuos Pro here, or the regular Intuos line here. Also, if you do want to see how beneficial a tablet can be for Lightroom and how to set it up, check this out.
Join Premium
This was a sneak peak of our upcoming Fitness Tutorial Workshop that will show various techniques for photographing fitness models and gym equipment with a multitude of lighting setups. These will be released chapter by chapter for SLR Premium Members and available in our SLR Lounge Store.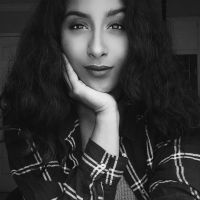 Shivani Reddy
Shivani wants to live in a world where laughter is the cure to pretty much everything. Since she can't claim "Serial Bingewatcher" as an occupation, she'll settle for wedding/portrait photographer at Lin and Jirsa & marketing coordinator here at SLR Lounge. For those rare moments when you won't find a camera in her hand, she will be dancing, eating a donut, or most likely watching Seinfeld. Follow her on Instagram:
@shivalry_inc