Shooting in natural light outdoors can be both joy and suffering, particularly in harsh light. Of course there are the rather obvious difficulties associated with midday light such as the fleeting nature of it as conditions change with each blink; the major contrast between dark and light, and sometimes uncontrollable specular highlights. But furthermore there is the heat, and if you're subject is a person there's the taxing nature of keeping their eyes open in the face of all natural instinct.
But as with anything the sweet is never as sweet without the bitter, and thus, when you get it right in those harsh light conditions the results can bring tears to your eyes. Fortune favors the brave, et cetera…
So, since we know that kind of harsh light can bring such fruitful rewards, it's worthwhile to understand and learn how best to function in that environment so you can replicate the looks you want with consistency, which is where Anita Sadowska's video comes in handy.
We've featured Anita on a number of occasions before, and for good reason. Her relaxed nature lacks pretense and lends well for easy up-take of knowledge, and her imagery is contemporary. Her videos are also generally addressing common scenarios and qualms of those actively learning in the industry, and this post on tips for shooting in midday sun is just that. From how to make the most use out of shadows from foliage and how to assist the subject by timing when they have their eyes open there are a number of actionable and easily memorable bits of information here all supported by her shots.
Gear Used
In Opposition
Anita does, however, come out and state she tries to avoid shooting in noon sun whenever possible, and suggests that it may be better to plan the shoots for the early morning or late in the day. This is in contrast to what I personally enjoy, but that's a matter of personal preference. I like the razor edge to the shadows and the specularity of highlights on the skin to bring out texture, and I like the contrasty look sometimes, especially for swimwear.
Working in that way does require a bit of a different approach, but even if, like me, you enjoy that, you'll benefit from the advice within the video such as keeping your subject's face angled high, and the trick about when to tell them to open their eyes. Good stuff, and you can find more from Anita on her site and YouTube.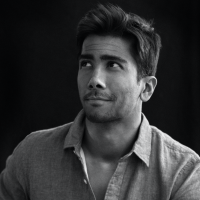 Kishore Sawh
A photographer and writer based in Miami, he can often be found at dog parks, and airports in London and Toronto. He is also a tremendous fan of flossing and the happiest guy around when the company's good.