For anyone who keeps up with the day to day of photography education, Peter Hurley is name you're familiar with. With his experience in front of, and behind a camera, Hurley, steadily becoming household,  is arguably one of the best in the business of professional headshots, and teaching that craft. He recently spent some time with fashion photographer Frank Doorhof, took some head shots of Frank, answered some questions, and gave some advice.
When it comes to making a great headshot, Hurley has been known for giving very specific, actionable advice most of us are now familiar with such as the 'squinch,' and the importance of the jaw adjustment. Here, Hurley goes into more of the mentality behind it, what the aim of a headshot should be, and how he goes about getting that from each person who walks into his studio,
A great headshot is one that conveys the personality of the person. Or, for me, I call it camera invisibility. I want them to look into the camera as if the camera is not there.
Hurley explains some of what he does to ensure he captures this, and what's going on during his shoot. He also goes on to give advice to anyone thinking about doing this professionally –  first and foremost to get as many people as you can in front of your lens. He stresses the need for continual practice and mastery of the technical side, so that when the moment comes to shoot, you will not have to think about it.
As usual, even this short clip has a lot of take aways, and if you would really like to get into Peter's mind, to really scavenge all the info he has to offer, his two instructional videos  The Art Behind The Head Shot, and  his latest, Illuminating The Face, have helped many to quickly upgrade their shooting to new heights, and could do the same for you. Worth a look.
Check our Frank Doorhof's YouTube channel for much more instruction, and inspiration.
Source: ISO1200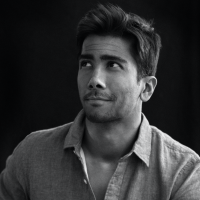 Kishore Sawh
A photographer and writer based in Miami, he can often be found at dog parks, and airports in London and Toronto. He is also a tremendous fan of flossing and the happiest guy around when the company's good.