Each new year brings reflection, new beginnings, a new tax year, and new opportunities for us to try something differently than we've tried it before. Now, I'm not really a resolution person, but I do like to spend a lot of time examining what I've done in the past and making adjustments and plans for new approaches in the future.
As a photographer, it is incredibly important to me that my photography continues to improve, that my business expands, that my brand becomes more defined, and that I grow creatively. Some of these desires are somewhat more difficult to define and require a period of time before the results can be analyzed. Fortunately, creativity and photographic quality are areas where we can implement a few processes and see changes come almost immediately. Let's be honest, who doesn't thoroughly enjoy some instant gratification? Especially in something that can result in increased income, greater artistic expression, or some glorious combination of the two!
Whether a beginner or someone that's been around the block a few times, there are a few steps that you can implement (or revisit) to get better. If you've done these things or have progressed beyond them and have other tips that you would like to add to the mix, don't hesitate to add them to the comments below. I look forward to reading them.
Education
This is seemingly a no-brainer, but as a consumer that has been burned by products promising more than they could deliver, I offer some words of caution.
First, don't believe all the online hype promising overwhelming success. Instead, focus on finding products that offer proof that they work and they are products whose results you can be reasonably certain you can replicate. For instance, purchasing a $500 marketing plan that's going to bring you $30,000 in profit and social media domination over the next 13.75 hours (Exaggeration? Maybe a little…) is difficult to imagine yourself replicating. However, purchasing a product that demonstrates proper photographic posing for couples and walks you through the process would be a wise investment. (Side note: If you would like to make a wise investment based on the previous sentence, click here. You're welcome).
Second, determine who provides the type of service, brand, images, etc. that you most connect to and spend money learning from that person. If I want to learn how to be the best wedding photographer in the country (and I do), I'm not going to spend money learning about newborn photography. Find your inspiration and learn from them.

Get Involved in an Online Community
I won't spend a lot of time here, but we have an incredible opportunity in this digital age. There are countless photography forums and opportunities for interaction with photographers of all skill levels from all over the world. Don't miss out on this chance to pick their brains, request their critique on your images, and learn from your peers. This is one of the easiest and most beneficial steps I've taken in my journey. Do it now! (Check out the SLR Lounge Community; it rocks!)

Critique and Be Critiqued
It's painful, but the best possible thing you can do to grow as a photographer, whether or not you are ever paid a dime for your work, is to seek out and assimilate constructive criticism. Find someone or some group of people that you trust and get their honest feedback on your images. Granted, there will often be stylistic differences and disagreements, but (if you allow it) the feedback you get from allowing your images to be picked apart will improve every single image that follows. That's invaluable.

Try Something New
Try a different style of photography than what you normally shoot. This could come in the form of a daily challenge on Instagram or in the form of a personal challenge to do something (or shoot something) that is completely outside your comfort zone. I've heard of people only shooting black and white for a year, only using a single lens, entering a contest, creating a portrait of a complete stranger once a day, focusing on lines, shapes, etc. – the list is endless! Do some cross-training (photography style) and I'm confident you will notice your primary photographic style/interest improving as you go.
Go Out And Shoot
It's incredibly easy, and I am very guilty of sitting behind a computer screen for countless hours learning techniques and processes that I never use. Don't spend another year, month, or day consumed by the consumption of online material without getting out there and actually using some of that knowledge. Did you read Andy & Amii's article about how to create sun flares in your portraiture? Go try it! Did Kish's article about how to effectively backup your work seem like a phenomenal idea? What are you waiting for?!? One of the tech tricks on Lauchlan's article seem interesting? Boom. Do it.
As with most things of value, it is incredibly easy to define what needs to be done in order to be successful; it's the doing of the thing that's problematic. (Calories in vs. calories out, anyone? These are just a few ideas that you can implement today to improve yourself as a photographer. Don't just read them and move on without committing to yourself and your art by picking one to start today!
If this article sparked a brainstorm and you have other ideas you would like to share, pop those into the comments below! Also, don't forget to share the results of your experiments over in the SLR Lounge Facebook Community! I look forward to seeing them!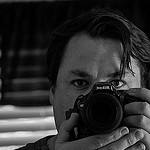 Michael Henson
Michael Henson is a St. Louis based photographer obsessed with everything creative. His photography interests span genres from still life to sports. When he's not running around with his face to the camera or behind a keyboard writing, you can typically find a guitar in his hands or catch him out enjoying life with his family and friends. For more from Michael, bebop on over to: WEBSITE:
Michael Henson
Personal Facebook:
Michael Henson
Business Facebook:
Henson Creative
Instagram:
@michaelehenson