As a photographer, it is incredibly important to continually improve and grow creatively. Some of these desires are somewhat more difficult to define and require a period of time before the results can be analyzed. Fortunately, creativity and photographic quality are areas where we can implement a few processes and see changes come almost immediately. Let's be honest, who doesn't thoroughly enjoy some instant gratification? Especially in something that can result in increased income, greater artistic expression, or some glorious combination of the two!
Whether a beginner or someone that's been around the block a few times, there are a few steps that you can implement (or revisit) to get better. If you've done these things or have progressed beyond them and have other tips that you would like to add to the mix, don't hesitate to add them to the comments below. I look forward to reading them.
Tips To Improve Your Photography With Pye Jirsa & Marc Silber
Let's start with this video with Pye Jirsa and Marc Silber's on the Advancing your Photography Podcast as they have a "fireside chat" covering everything from where he started, how to manage your time for both personal & professional development, balancing work and family, some marketing tips, to a whole plethora of behind the scenes, tips, and tricks on how to improve your photography! They even take the last section of the live podcast to hold a Question and Answer session with viewers covering anything the audience wanted to cover. You'll definitely want to watch this episode
How to Improve Photography Skills
Plan Ahead
Planning ahead encompasses many things and will differ for each genre of photography. That said it might include things like performing a recce, creating a mood board, holding meetings with clients, researching your subject, writing a shot list, creating a plan for your day, sourcing props, sketching out ideas, and so on.
Whatever is appropriate for your genre of photography, I encourage you to plan in advance as much as possible. Not only does it help to alleviate nerves but it can also boost creativity by giving you time to think. I do, however, recognize that it is not always possible, and that as the saying goes, "man plans, God laughs". That said, it always helps to plan as much as possible.
Education
This is seemingly a no-brainer, but as a consumer that has been burned by products promising more than they could deliver, I offer some words of caution.
First, don't believe all the online hype promising overwhelming success. Instead, focus on finding products that offer proof that they work and they are products whose results you can be reasonably certain you can replicate. For instance, purchasing a $500 marketing plan that's going to bring you $30,000 in profit and social media domination over the next 13.75 hours (Exaggeration? Maybe a little…) is difficult to imagine yourself replicating. However, purchasing a product that demonstrates proper photographic posing for couples and walks you through the process would be a wise investment.
Second, determine who provides the type of service, brand, images, etc. that you most connect to and spend money learning from that person. If I want to learn how to be the best wedding photographer in the country (and I do), I'm not going to spend money learning about newborn photography. Find your inspiration and learn from them.
Get Involved in an Online Community
I won't spend a lot of time here, but we have an incredible opportunity in this digital age. There are countless photography forums and opportunities for interaction with photographers of all skill levels from all over the world. Don't miss out on this chance to pick their brains, request their critique on your images, and learn from your peers. This is one of the easiest and most beneficial steps I've taken in my journey. Do it now!
Critique and Be Critiqued
It's painful, but the best possible thing you can do to grow as a photographer, whether or not you are ever paid a dime for your work, is to seek out and assimilate constructive criticism. Find someone or some group of people that you trust and get their honest feedback on your images. Granted, there will often be stylistic differences and disagreements, but (if you allow it) the feedback you get from allowing your images to be picked apart will improve every single image that follows. That's invaluable.
Try Something New
Try a different style of photography than what you normally shoot. This could come in the form of a daily challenge on Instagram or in the form of a personal challenge to do something (or shoot something) that is completely outside your comfort zone. I've heard of people only shooting black and white for a year, only using a single lens, entering a contest, creating a portrait of a complete stranger once a day, focusing on lines, shapes, etc. – the list is endless! Do some cross-training (photography style) and I'm confident you will notice your primary photographic style/interest improving as you go.
Go Out And Shoot
It's incredibly easy, and I am very guilty of sitting behind a computer screen for countless hours learning techniques and processes that I never use. Don't spend another year, month, or day consumed by the consumption of online material without getting out there and actually using some of that knowledge. Did you read Andy & Amii's article about how to create sun flares in your portraiture? Go try it! Did Kish's article about how to effectively backup your work seem like a phenomenal idea? What are you waiting for?!?  Boom. Do it.
As with most things of value, it is incredibly easy to define what needs to be done in order to be successful; it's the doing of the thing that's problematic. (Calories in vs. calories out, anyone? These are just a few ideas that you can implement today to improve yourself as a photographer. Don't just read them and move on without committing to yourself and your art by picking one to start today!
Don't Rush, Stay Calm, And Slow Down
I may have shown you an example of my wildlife photography but this simple photography tips applies to every genre. One of the biggest mistakes that I have made (and in fact still do) is to get flustered and rush. That may be because I see an incredible moment about to occur and don't want to miss it, or because a shot hasn't turned out too well and I get frustrated, or I have a particularly challenging client. Whatever the cause may be, rushing is only going to make things worse. Your photography WILL suffer.
If you're not working with clients, then this simple tip is easy to implement. On the other hand, if you are with a client this becomes a little more problematic. If that is the case, then use one of my favorite methods (and tell me some of yours in the comments below): Either the "let's take five method" or the "I need to adjust "x" method". Photographing people can get quite intense and 'taking 5' is something that they may appreciate just as much as you. If you feel that won't work then you can always adjust something with your gear that you don't really need to do; change a battery usually being a good one. Give yourself the moment to take a breath, and re-group.
Collaborate!
Collaborating is a great way to level up your skills.  For example, working with makeup artists and designers can help elevate your photography.  You don't need to have a professional MUA necessarily, though it helps, and if you don't, you either need to be adept at doing it yourself, in your instruction, and your subject must have the ability to execute those instructions.
The obvious reason for this you'll typically hear is for the benefit of retouching, and there's no denying it. Having a good makeup job done pre-shoot will make post-shoot that much easier and timely. I can't stress enough just how much makeup matters in this way, but there's another side to it, and that's how much more comfortable and confident your subjects will be when they are wearing it.
Focus on a Niche
If you are busting your tail and want to be noticed but it's not happening, it's likely not your technical ability that's holding you back, but rather your vision and focus. If you're serious about photography, and you're going after a certain level of client, there's an expectation that you are capable of doing the work and executing it. That, to a client, is something understood and assumed when you show up. Think of it as applying for a medical residency up against lots of people with exactly the same qualifications – there's an understanding that you have the essentials like a medical degree, and thus it's something else that must separate you.
And that's the key word, 'separate'. You shouldn't aim to be technically better, but to be different in a sea of people who are all capable of executing the same shots. What separates you? How's your stuff gonna stick? Getting anything to stick in this saturated and slippery world isn't easy, especially when porn and Facebook are all a click way. It's your creative vision that's your currency. One of the ways to highlight said vision and separate (since there's little new under the sun), is to find a niche.
Conclusion
It's tough to advance your photography; I spent years at a very similar level, moving forward at a very slow pace. I'm sure it's something that many of you experience and please try not to let the slow progression dishearten you. Your progress as a photographer will plateau from time to time, but there will also be times when you are propelled forward. What we want to do is encourage more of those times and and less stagnation by implementing the tips herein.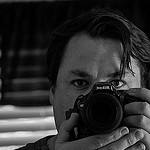 Michael Henson
Michael Henson is a St. Louis based photographer obsessed with everything creative. His photography interests span genres from still life to sports. When he's not running around with his face to the camera or behind a keyboard writing, you can typically find a guitar in his hands or catch him out enjoying life with his family and friends. For more from Michael, bebop on over to: WEBSITE:
Michael Henson
Personal Facebook:
Michael Henson
Business Facebook:
Henson Creative
Instagram:
@michaelehenson