'Digital maturity' and 'mirrorless maturity' are likely to be the themes we discuss as being most relevant in 2018. That's the point where we are at – one where digital and mirrorless don't really have anything left to prove.
As a consequence of this maturity, however, the burgeoning exodus to mirrorless can be felt as much as seen up and down the scale of users, including those who have made rather significant investments in glass over the years. Those users (deep down in places they don't talk about at parties) often want to switch to mirrorless but have to be considerate of the cost of platform switching, so the idea of adapting lenses is attractive – but has been a bit of a pipe-dream for a long time. Simply put, functionality and ambition lagged behind desire. Now however, not so much, as our friends and fellow Canadians, Chris and Jordan from TheCameraStore demonstrate with full frame and m43 bodies with FF lenses.
Now, we've seen before that adapting Canon glass onto something like the A7Riii can bring out some of the best of Sony's AF, but what about using Sigma glass with their adapters, or Metabones and so on with something like a a Panasonic G9? Well, Chris and Jordan, the charming obliging duo have put all these together for a rather rapid comparison, and the findings are certainly interesting.
We won't give it all away, but it's hard to ignore just how well the Sigma glass with MC11 on an A7Riii performed, and just how much better overall the adapted lenses on the Sony performed compared to the Olympus and Panasonic.
And while this is the case, Chris brings up a good thought that while that's great, the lion's share of users are going to have more Canon/Nikon branded glass than Sigmas to adapt, so the value of such performance coming now is a little in question.  It's also worth noting that it'll matter even less as Sigma has now started to release some of their best offerings with an E-mount (even though they look like a normal Sigma lens with an MC11 welded on…).
But perhaps the most interesting and valuable part of the video is the musing over the state of adapters and systems that Chris peppers throughout, particularly at the end. It's a good primer on what to look out for with adapted glass, and signals the strengths and weaknesses of certain systems. Watch it even if just for that perspective. And of course enjoy the particularly satisfying 'Mitch Buchannon in snow' impression that Jordan ab-so-lutely nails.
Check out more great stuff from the duo on their YT channel.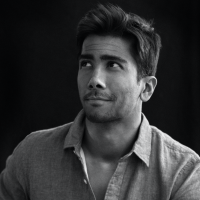 Kishore Sawh
A photographer and writer based in Miami, he can often be found at dog parks, and airports in London and Toronto. He is also a tremendous fan of flossing and the happiest guy around when the company's good.