As if a Leica wasn't special enough, the company has made a habit of creating special one-offs and limited run cameras and lenses. Recently there was the M-P (Typ 240) Titan made almost entirely from titanium with a limited run of 333 units; the M-P Edition Safari that brought back tradition of the olive green enamel; then of course there was the M-P Correspondent designed by Lenny Kravitz which is black but meticulously scratched and buffed to let the brass shine through, and give the camera a weathered look. The latest in the bunch is by far the most visually arresting, and it's called the Leica M-P "grip" by Rolf Sachs.
This particular newly packaged offering has been jointly created in collaboration with artist and photographer Rolf Sachs, and of it he says,
For many photographers over many years, the Leica M has been a passionate love affair! Its functionality and iconic design attracts me as an artist and an avid user. I am thrilled for the opportunity to 'undress' the camera and create a new look, surprising as much as functional. Applying a material that has never before been used as an easy-to-grip camera surface, created a striking aesthetic and a unique tactility
So what's in it? at the core it's a Leica M-P (Type 240) with 'grip' by Rolf Sachs and a Leica Summilux-M 35 mm f/1.4 ASPH.
Only 79 sets available worldwide
Exclusive look – all buttons and function wheels with black finish and red engravings on the top of the camera
Unique red rubber cladding with raised dot structure based on a table tennis paddle
Special engravings, 'Rolf Sachs' on rear of body and special edition number on accessory shoe
Set is presented in a black outdoor hard case which has additional storage space for more accessories. Case will protect set when used for shipping
Technical features identical to the standard production Leica M-P (Typ 240)
All accessories for Leica M-P (Typ 240) are compatible except multifunctional handgrip and standard handgrip
Leica is marketing the camera as having a unique tacticle 'haptic' feedback provided by the ping-pong paddle grip coating. But while that may be so it probably makes more sense to understand that this is as much to do with being about art, as it is with utility, and about making something special.
If you are to be one of the fortunate ones who will own one, you'll be looking to pay just shy of $15,000 for the privilege. If you were to buy a normal more 'pedestrian' M-P (Typ 240) with a normal Summilux 35mm 1.4, you'd still be paying just north of $12,000 so to have a special edition be so closely priced and with the case and so on, it's reasonably priced if you're in the market.
You can check it out here in closer detail, or order it here.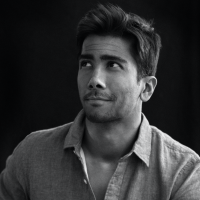 Kishore Sawh
A photographer and writer based in Miami, he can often be found at dog parks, and airports in London and Toronto. He is also a tremendous fan of flossing and the happiest guy around when the company's good.