Just a few months ago in October Canon released and debuted the EOS M5 and it was what we considered to be the company's first real offering in the world of mirrorless, or at least first real contender. Sony, Fuji, and Olympus had been leaps and bounds ahead of Canon in this department for years, but with the M5 Canon showed some chops.
It's a bit strange though, that we would see a new mirrorless from Canon just a few months later and one so similar to the M5, because make little mistake, from what we can tell the new EOS M6 is essentially the M5 with the the top lobbed off. But the thing is, that could make all the difference.
What we're seeing is a camera that borrows heavily from the EOS M3 in terms of form factor and aesthetics, but with the innards of the M5, which essentially gives it a placement in the line-up that sits between the two – which makes the nomenclature a bit puzzling.
From the M5 the M6 will pull the same 24MP APS-C sensor with its Dual Pixel CMOS AF with Phase Detection, the 3 inch touch screen (the M6 can flip into selfie-mode in case, you know, you lose your mind for a moment), Digic 7 processor, WiFi, NFC, Bluetooth, 1080/60p video capture, and they both also get up to 9fps with AF lock. So essentially when it comes to function they balance, but not so in form.
The form factor of the M5 make it look like a shrunken DSLR, so it actually felt good and handles well, but a bit ungainly looking. The M6 favors the M3 in form as it dispenses with the built in EVF, and that makes it a lot sleeker, smaller, and generally more attractive and less obtrusive. It still has a reformed top plate though so it has more dials up top than the M3 which means better handling and functionality, and if it's an EVF you want you can get one, the EVF-DC2 for $250, though honestly if that's what you want you may as well get the M5 because the EOS M6 body costs $779 and adding the EVF brings your total to $1,029, a $60 premium on the M5. But at least you'll have the option.
The M6 will come in two colours, and aside from the body-only option it will come with 2 kits, either with an EF-M 15-45mm F3.5-6.3 IS STM for $900, or EF-M 18-150mm F3.5-6.3 IS STM for $1280. You can get them here:
EOS M6 (Body only)
EOS M6 w/15-45mm
EOS M6 w/18-150mm

Here are some more shots of the camera and sample photos. Click on samples for full res.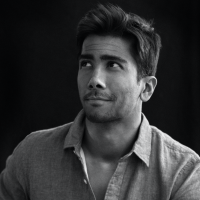 Kishore Sawh
A photographer and writer based in Miami, he can often be found at dog parks, and airports in London and Toronto. He is also a tremendous fan of flossing and the happiest guy around when the company's good.