Few things were so immensely adopted as Apple iPads have to become a fixture in the photographer's bag. The appeal of having a mobile and compact display of images was obvious but the iPad has evolved from a tool for leisure and consumption to one of utility. The iPad Pro was the device that really solidified that, and since the first iPad Pro debuted in 2015, Apple has today announced a successor.
Many of the brands of equipment we use today have iPad apps and connectivity, from lighting companies like Broncolor and ProFoto, post processing like Adobe and Affinity and Capture One, and then with other pieces like CamRanger. The iPad has a solid presence in our field, so a new one is something to look out for.
At WWDC, Apple unveiled the iPad 10.5" model as a replacement for the 9.7", and it's quite the upgrade. Keep in mind the larger 12 inch model also gets upgraded but, the 10.5 inch is the new one that fits the same form-factor and weight as the 9.7 inch but with 20% more screen real estate. But not only is the screen larger without an overall size penalty, at 600 nits it's 50% brighter than the model is succeeds, has a wide color gamut and low reflectivity, allowing for HDR video viewing on an iPad. These screens are actually better than the new iMacs. All of this means it'll be a viewing experience as there hasn't been one before, especially when considering ProMotion, which alters the refresh rate of the screen up to 120Hz, making for super smooth flow and movement.
All of this is powered by a new A10X Fusion chip with a 6-Core CPU and 12-core GPU, giving it a boost in speed and an even bigger improvement in graphics. In addition it pulls the iPhone 7s cameras so the iPad pro now shoots and optically image stabilized 12MP rear camera rear capable of 4K, 7MP on the front, and the new iPads get a storage boost. The base Pro models start at 64GB for $649 and a 10.5" 256GB model for $749.
There was also some talk about even further decreased latency between Apple Pencil and the iPad Pros, and this would make writing and image manipulation with the Pencil even better. Those who have used it already know just how good it already is, so that's a nice surprise, but even nicer is to know that there's Affinity Photo for iPad now which brings full-blown retouching of Affinity Photo to the iPad, allowing you to take advantage of all of this. That has even more meaning now too, considering the new file-tree architecture coming to iOS 11, so the struggle of getting those great raw files and so on onto the iPad should be a thing of the past.
We're hoping to get one in for review ASAP, but if you can't wait for that you can get one as early as next week and buy it here.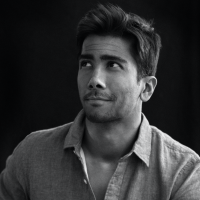 Kishore Sawh
A photographer and writer based in Miami, he can often be found at dog parks, and airports in London and Toronto. He is also a tremendous fan of flossing and the happiest guy around when the company's good.