Beauty lays in the eye of the beholder. Well, that's how the old adage goes anyway, but certainly in some ways it's flat out wrong. Beauty, it can be argued, can be quantified and therefore artificially synthesized. Not that this should come as any surprise; Everyone finds a 1960s Ferrari more beautiful than a '94 Corolla, and Barbara Palvin more beautiful than the Donald, for example.
"What is beauty then?" you might ask. You would, however, be asking the wrong question. As with style, it's less 'what is it?' and more, 'what is it made of?' It's an anthology of traits, a whiskey of many spirits.
And that's sort of the concept and approach behind The Independent Critics List by TC Chandler's annual list of The Most Beautiful Faces Of 2017.
The list has been annually published since 1990, and from its beginnings as a small collegiate project has become something of a global internet phenomenon. According to their site the list has been seen by a quarter of a billion people and widely considered the most internationally recognized of its kind. So popular in fact, that there's now a second list for The Most Handsome Faces, with men.
What's perhaps most interesting about these lists is that they're not strictly American or Euro-centric, and that makes for a very interesting spread of people and looks, and as time goes on it gets even more diverse. Just take a look at how the list has changed over the past 20 years:
Worth noting too, however, is that the lists aren't composed solely of people who already grace the cover of western magazines, but in fact many faces you not know at all, and many of those have gone on to become sensations in their own right. Consider Thylane Blondeau and the recognition and success she's gone on to have from her initial success as a child model of some obscurity. That is all to say the lists do seem to reflect the direction of global tastes in aesthetics.
*It's not lost on me that it is, perhaps, a bit disconcerting that your looks are up for scrutiny even as a child – and there was considerable brouhaha over that in regards to Blondeau herself…
This year's list, however, is probably the most unusual of all, as it celebrates different looks more than any in the past. In fact, those of Asian and mixed-Asian descent have dominated the 2017 list, and for many that's a welcomed embracing of the times.
Whatever you or I may think of this and whether we agree with the choices is sort of irrelevant, because it's not so much the individuals that matter. It's important for photographers to take note (especially in the West) because it shows how much the world is changing and how important diversity in look and subject is.
One hopes that this will encourage more photographers, MUAs, brands, stylists and so on to be more inclusive, and that can only spell good things for us all; more tolerance, acceptance, equal opportunity et cetera. I mean, we'll certainly get more interesting imagery, and really, in this day and age of globalization you have to ask yourself: Aside from the fact that despite the calls for isolationism by many in the United States, can you afford not to embrace diversity?
You can check the IG page here for the full list and the videos below.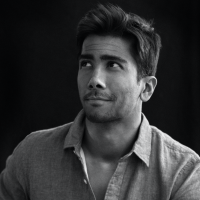 Kishore Sawh
A photographer and writer based in Miami, he can often be found at dog parks, and airports in London and Toronto. He is also a tremendous fan of flossing and the happiest guy around when the company's good.