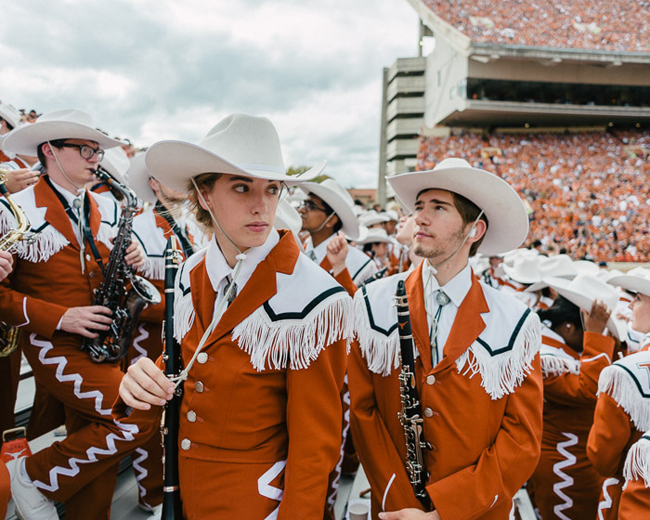 In the United States, football is considered a religion; there is a congregate that collects every week and believes in something, a sense of community and brotherhood, lots of praying and let's not forget the choir (E-A-G-L-E-S, EAGLES!!!!! ahhh…so melodic). As a kid photographer, Walter Pickering was on the field every Friday night, but he wasn't dodging linebackers or sacking the quarterback; he was carrying a tuba and marching.
Pickering had ambitions to be a band director, but the dream changed when he found out music theory wasn't for him. He instead turned his ambitions from directing to photography and years later, he combined his passions of marching band and photography in a series he calls Esprit de Corps.
Spanning from Rock Springs to Houston, Pickering captured half a dozen high school marching bands, drum corps, and college marching bands at the Universities of Nebraska and Texas. Esprit de Corps is "really about the spirit of the groups," Pickering explains. "You're always operating as a single unit." his series captures the precision and dedication that is required in this physically demanding and competitive sport.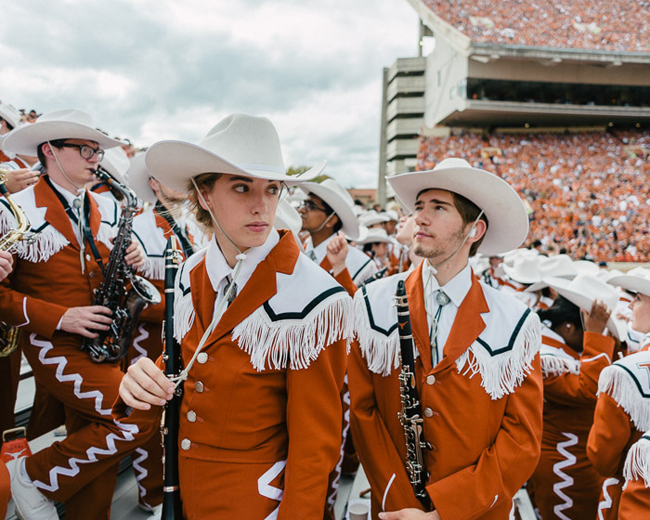 Little has changed in marching bands since they became the staple of American universities in the late 1800s. The instruments are still are basically the same and even the modern uniforms sometimes have a classic throwback. "The uniforms are kind of like time capsules," he says. With little change in the standard operation procedure and uniforms, the photos could come out of a yearbook for the 1960s. Pickering's photos have a timeless feel about them.
As an Eagles fan, I grew up learning to hate the Cowboys and pretty much anything associated with Texas football. I used to think that our team trained harder and were more dedicated. Pickering shows the level of dedication for every team is the same. As part of a collective, we can achieve more and have more substantial goals. Be it professional sports or marching bands, dedication, persistence and fairness to your craft is essential for success.
To check out more from the series, check out Pickering's website.
CREDITS: All photographs by Walker Pickering are copyrighted and have been used with permission for SLR Lounge. Do not copy, modify or re-post this article or images without express permission from SLR Lounge and the artist.
[Via Wired]
Justin Heyes
Justin Heyes wants to live in a world where we have near misses and absolute hits; great love and small disasters. Starting his career as a gaffer, he has done work for QVC and The Rachel Ray Show, but quickly fell in love with photography. When he's not building arcade machines, you can find him at local flea markets or attending car shows. Explore his photographic endeavors
here
. Website:
Justin Heyes
Instagram:
@jheyesphoto