Consistency is a process that naturally takes time. You have to give yourself enough of it to develop a unique and exclusive style while having patience in waiting for the right clients to believe in your worth.
How do you manifest consistency?
As artists we are constantly being influenced by things that happen in our lives and this translates heavily into the effort and passion we put into our work. Wedding photographer Caroline Tran lends her advice on one of the most demanding facets of a photography business: the commitment to consistently amazing work.
Join Premium
Caroline's work is an archetype of portfolio consistency, with exuberant filmic images characterized by their stylistic uniformity. Although every image tells a different story, she has created a style of her own that is unique to her brand and relevant to her clientele. Her full course,  'Light & Love' delves into pinpointing your own unique style to create the most efficient ways you can market yourself, your product, and your brand.
Be open to your story
The initial process of finding your voice is an extremely personal journey and requires the investment of your own artistic expression. Caroline encourages photographers to be open to how their life story has influenced their growth, and not to close the door on possible styles or aesthetics that they excel at simply because they aren't in trend. Having a consistent standard is how clients will eventually refer business back to you, making it a crucial aspect for any photography business to survive.
Keep paying attention to what you are naturally drawn to in your own work, and from there, constantly evolve and fine-tune to create a style of your own.
Purchase Caroline's full course 'Light & Love' now in the SLRL Store to learn how to create captivating storytelling imagery with the beautiful look & feel of timeless film.
Join Premium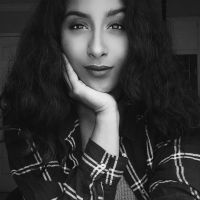 Shivani Reddy
Shivani wants to live in a world where laughter is the cure to pretty much everything. Since she can't claim "Serial Bingewatcher" as an occupation, she'll settle for wedding/portrait photographer at Lin and Jirsa & marketing coordinator here at SLR Lounge. For those rare moments when you won't find a camera in her hand, she will be dancing, eating a donut, or most likely watching Seinfeld. Follow her on Instagram:
@shivalry_inc