One of our favorite things to do is reflect on what went well and what didn't after each wedding, wedding show, engagement adventure, client meeting, etc.—heck, we might even be known to rewrite an email 2 or 3 times. And we could write pages . . .
But being self-reflective, realistic humans, we're not quite at the spot where people want to read our book. Yet. HOWEVER, if you need a bit of first-year advice or want to compare "war" stories, here are five things we'd do again, that we'll keep doing year after year (we think), and that we'd love to share…
1. Consult Professionals
Consulting with professionals was a big win for us. Other than scouring YouTube and the Internet for the best instructional videos out there and landing a couple leads on some good DVD series, like OneLight, we found a few photographers that we loved and harassed them over social media until they complied. Just kidding. But we did make several great connections with wedding photographers who helped us out with the myriad of questions we had related to everything wedding photography and the business of wedding photography. After that, we connected with a lawyer who specializes in business and also an accountant and tax professional (none in our circle of family and friends, so we paid for those services).
2. Branding Ourselves
While we have a decent number of tattoos, we didn't actually go the 'searing of the skin' route. What we did do is take some time to think about who we are, what we wanted to portray, what our logo(s) would look like, what style of business cards we'd have…all the way down to what kind of shoes we should wear to client meetings, weddings, etc. This really helped us to define ourselves in relation to our job as not only wedding photographers but small business owners.
3. A Basic Business Plan
The third thing we did was put together a basic business plan. Here was our plan: get a business license, get insured, throw up as good of a website as we can, and go for it! Ha! Seriously, though, that was it. Well, sort of. We had done many, many free shoots, including a wedding or two, and then we charged a nominal fee for a wedding or two (just to cover expenses). After that, it was all or nothing. We took several deep breathes, built a decent booth, got some canvases made, printed some "collateral," and did a big wedding show (Andy even bought a new suit). It actually paid off. It's how we booked our first, fully paid clients at a price point that we felt we could deliver on and we also felt allowed for clients to take us seriously (and the fact that we were licensed and insured helped with being a new business and future clients taking us seriously).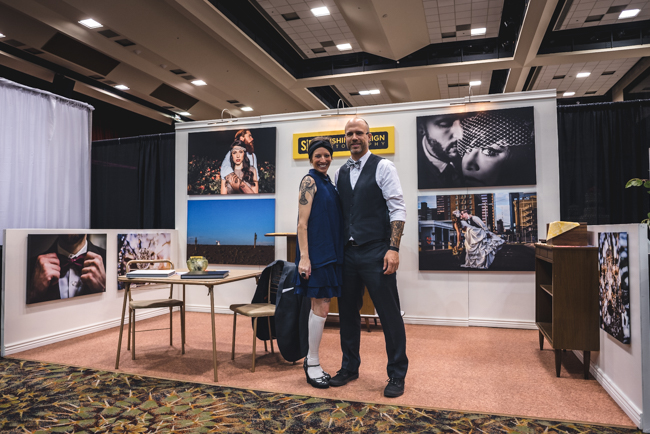 4. Networking
We networked as best we could. This was tricky since we were fairly brand new to the industry. And while we feel there is no exact science here, we started small and made it a point to put ourselves out there to some of the bigger, local names (i.e. we were brave and walked up to a few magazine publishers and started conversations, bought coffee for a lot of vendors, and we were always generous to share images with vendors that we connected with and worked with). This simple process of meeting with people and specifically sharing images with vendors (e-mail and social media) got us a feature in two different wedding magazines as well as a local non-wedding publication, our images displayed in a local coffee shop, a major discount from a beverage company, professional discounts from a few equipment companies, and even got us put on a few preferred vendors lists.
5. Education
We read a lot and kept up with some of the photographers whose work we admire. Blogs, articles, reviews, social media, and even a few books here and there (including a vintage Kodak series from the 1980s because we like to be thorough). You have to study your craft and keep up. You have to know what works and what doesn't, especially when you are starting out and can't afford to purchase a piece of equipment or software that isn't going to deliver.
Conclusion
Starting a photography business isn't for the faint of heart … and keeping it going will take lots of long days, longer nights, and plenty of hard work! But getting a plan together and consistent reflection will put you in the perfect position to succeed and take your business well beyond year one.
About the Guest Contributor
Andy & Amii Kauth are a husband and wife team who own Sunshine & Reign Photography, and they love telling couples' love stories through wedding photography and all aspects of the business of wedding photography. They describe their style as rad, i.e. they combine artistic portraiture with an ability to capture intimate and spontaneous moments as a photojournalist might (it's all kinda digital, vintage-mod in their world). And true fact: if they ever escape off on a date night, you'll probably find them crashing a wedding.
Alice Houstons
Photography has been a part of Alice Houston's life for over a decade now. Here at SLR Lounge, she prides herself on being a wealth of knowledge in the latest photography news and tech. Always searching and a self-described "Digital Nomad," she loves learning about those unique stories that inspire photographers around the world!