The forward progress being made by women in today's society is monumental and history in the making. Strong women have been standing up for pay inequality, sexism, underrepresentation, and having the courage to share their stories of sexual harassment and abuse in hopes of shaping a better tomorrow.
In celebration of International Women's Day, Tether Tools is releasing their How I Got The Shot: Women's Edition. The digital guide features work from 30 of today's most in-demand female photographers including a simple one-light setup for boudoir with Jen Rozenbaum, a golden-hour swimwear shoot with Anita Sadowska, a very creative reflection shoot with Chelsea Marrin, a shoot with Canada's Justin Trudeau with Jessica Deeks, and many more from Irene Rudnyk, Tina Eisen, and other impressive photographers.
The guide is totally free, and you can find out more below, or simply get it here.
Each article features a breakdown of how the shot was created as well as the final edits in post and is accompanied by a BTS video and BTS images. It also gives an intimate look into the world of shooting tethered.
Tether Tools provides some if the industry's leading cables for shooting tethered. If you have never shot tethered previously, the first time shooting tethered is likely to be an experience that will not be forgotten.
Seeing the fruits of your labor come to life on the big screen as opposed to the thumbnail-sized LCD screen on the back of a camera provide immediate feedback and highlight any adjustments that need to be made instantaneously. Simply put, it's a game changer.
You can order Tether Tools Equipment here. 
Check out the free download of How I Got the Shot: Women's Edition and be prepared to be inspired. Every story is a joy to watch unfold and read the story and creative process behind it. Also make sure to check out and subscribe to Tether Tools YouTube Channel for more creative content.
Cheers to strong women everywhere from everyone here at SLR Lounge.
Related Articles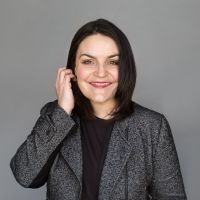 Brittany Smith
Brittany is a fashion and beauty photographer who works between NYC, Montana and LA. She photographs the way she has always wanted to feel and believes in the power of raw simplicity. When not behind a camera she can usually be found at a local coffeeshop, teaching fitness classes at the YMCA, or baking something fabulous in the kitchen. Instagram: @brittanysmithphoto