Introduction
In this weeks tutorial we're going to go from a regular image to a stylized teal filmic fade in just a few clicks. We're going to create another stylized image using our BCAS formula. BCAS stands for Base, Curve, Adjust, SFX, and the SLR Lounge Lightroom Presets v5 is designed to work in that order.
[Note: In the new Lightroom Presets v5, we have revamped all of the presets to improve image tonality and quality, allowing you to achieve even more amazing results. We've also added 95 new presets to reach a total of 311 presets in what is the gold standard of Lightroom image processing. In this series we'll be going over how to use the new v5 presets to create great looking photos. Click Here to learn more or purchase the system.]
With each of our Ordinary to Extraordinary Edits, we're going to first be going through how we create our effects with the SLR Lounge Lightroom Presets v5, then we'll be going through the details in the develop settings so everyone can understand exactly how we get to a specific look. This way, whether you have the presets or not, everyone can benefit from watching this video or reading the article below.
Lightroom Presets v5 Mixology Recipe
My Mixology
01-20 BASE – SOFT STYLIZED: 21b. Neutral Fade – Filmic Color
02-10 CURVES – COOL: 12d. Neutral Wash – Cool Cross
03-20 ADJUST – DETAIL SKIN: 21. Detail Soften – Heavy (Portraits)
04-00 SFX – COLOR SCHEMES: 01g. Green/Red
04-10 SFX – FILM & LENS: 11d. Heavy Film Grain
04-10 SFC – FILM & LENS: 12b. Medium Edge Softening
Local Adjustments
Radial Filter: 03 Burn (Darken) -0.50 Stops
Watch the Lightroom Video Tutorial
Complete Written Tutorial
In the last tutorial "Creating a Vintage Fade with a Yellow Violet Color Scheme" we created a new mixology preset. Just to see how well that preset works, we're going to select that preset for this image. After we adjust Exposure, Temperature and Tint to taste, here's what our image looks like after that preset is applied.
For this image we're going to use our BCAS formula. We start with our Base preset, then select a Curve and Adjust preset and finish with a SFX preset. This will get us from a normal photo to a great stylized image in only a few clicks.
We're going to start off with our Base Preset "01-20 BASE – SOFT STYLIZED: 21b. Neutral Fade – Filmic Color" and adjust the Exposure to +1.35 so we have a nicer background to look at. Then we're going to hit "R" and create a nice 2 x 1 crop. We're going to crop out the sky and we're left with a nice green hill in the background.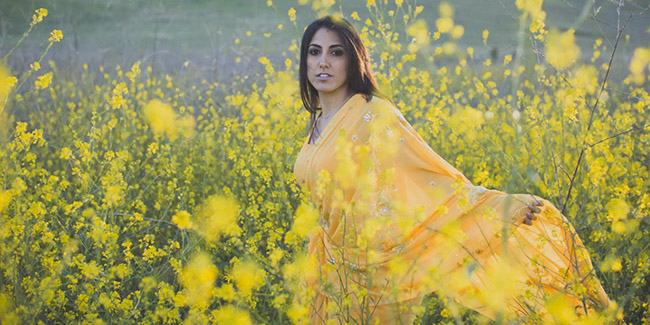 In our SFX presets, we want to choose a complementary color scheme. We're going to select the "04-00 SFX – COLOR SCHEMES: 01g. Green/Red" preset because we like how the green matches the highlights and how the red blends into the cross processing.
When we zoom into the photo we see that we have some grain but it's not too heavy. We're going to add another SFX preset to give us a filmic grain look. The "04-10 SFX – FILM & LENS: 11d. Heavy Film Grain" will give us the beautiful film look we're going for. We're also going to add the "04-10 SFC – Film & Lens: 12b. Medium Edge Softening" preset to soften the edges of the frame.
Now we're going to add a Radial Filter, and we want it to be long and oval to frame the body of our subject.
We want to save the new Mixology we made, and we do that by pressing the "+" button right next to "Presets" on the top left of Lightroom. Be sure to have; White Balance, Exposure, evetything in Lens Corrections (expect Lens Vignetting), and Calibration unchecked.
In our Develop Settings we have our Exposure raised to +1.35 because the image was a little underexposed to begin with, and also because of our Tone Curve we wanted to go with a brighter look. Our presets added a bit of Contrast and pulled down Shadows and Blacks a bit but left Shadows and Whites alone, and that gives an overall brighter look to our fade. The Clarity has been lowered to soften the skin and the Vibrance is raised and that gives our image a nice saturated look. The Tone Curve is pulling down our Highlights and lifting our Shadows, that's creating our fade and raising the tonality of our image, making it brighter. In the Split Toning our Red/Green SFX preset selected the colors and adjusted Hue and Saturation for us. You can always adjust the Balance in the Split Toning to give your image a different look. We have our standard Sharpening settings applied, and no Noise Reduction adjustments because we didn't apply a "Soft Portrait" preset. In Lens Vignetting we have a slight amount applied to darken the edges of the image. In Grain we have some applied because of our "04-10 SFX – FILM & LENS: 11d. Heavy Film Grain" preset. Here are what the Develop Settings look like after our presets are applied.
Here's what our photo looks like before and after our presets are applied.
Before
After
Conclusion and Learn More
We hope you all enjoyed this tutorial. If you are interested in learning more or purchasing the SLR Lounge Lightroom Presets v5, please click any of the links in this article.
Stay tuned for more SLR Lounge Weekly Edits!