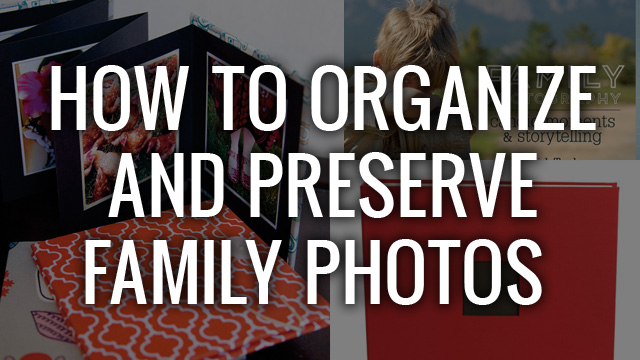 Welcome to Time Out with Tanya, where I've put my fast paced graphic design career on hold in favor of adventures in motherhood. I'm capturing every moment on camera and you can come along, if you'd like. Sign up for my weekly email here so you'll never miss a Time Out.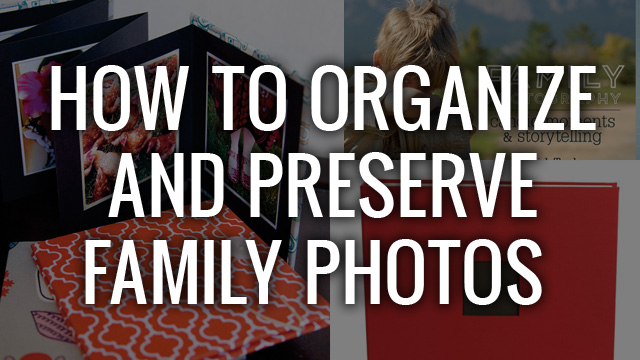 I hear a lot of talk lately about predictions of future generations having zero photos to show their kids, because they'll all be locked away on obsolete data storage devices. Well, we can make sure that doesn't happen by printing out our photos and preserving them for future generations. Don't get me wrong, digital storage of images has its advantages, especially if they're stored off site (after all, printed photos will most certainly be destroyed in a fire or flood) but we need a way to organize and keep track of all those images. If you're struggling to get it all together, here are a few tips for shooting, organizing and preserving family photos.
Take a Class

Many of my friends lament that they wish they could take better pictures. I always tell them to take a class! I wasn't born a "good" photographer and neither was anyone else. I highly recommend taking a class locally, but if that's not possible, try an online course. This class from Craftsy.com is specifically geared toward improving your candid family photos. Check out Family Photography: Candid Moments & Storytelling, Kirk Tuck. Save up to 50% off on ALL online classes at Craftsy's BIG Summer Sale!
Catalog Your Digital Images

I've been using Photoshop for 20 years (Holy Cow, I'm OLD!) so when Adobe Lightroom was released several years ago, I didn't see any reason to learn a new software, until I learned about the powerful cataloging and organizing features in Lightroom. I have years of family photos saved on multiple hard drives, and they're easy to find if I have taken the time to properly catalog them with key words in Lightroom.
If you're unfamiliar with this feature and want to learn more, check out SLR Lounge's Lightroom Organization and Workflow Workshop.
Print and Store Your Pictures!

Lacey Meyers offers her tips for printing and organizing your photos in her Clickin Moms Blog article Tips For Printing and Organizing your Personal Pictures. She has some great file organization tips in this article as well, and explains why printing your pictures in this digital age should be a priority. She uses American Crafts photo album binders and page protectors to store her prints.
Make a Memory Book

If making a digital scrapbook is more your thing, I recommend Blurb for press printed memory books. The paper and print quality outshines other print-on-demand services I've tried. I actually design my own spreads in Adobe InDesign, but you can use one of their user friendly design tools or templates, if you don't want to invest in design software. Click here to get 15% off on all printed products for returning customers.
Make an InstaBook

I'm in love with Instagram, and the majority of my candid family pics are being stored there, but sometimes I crave the feel of a paper album in my hands. Plus, the Grandma's aren't up to speed with all the technology and they're always bugging me for prints. Wouldn't these accordion fold InstaBooks from Rag and Bone make the perfect little gift for them? Or even for Dad to keep at his desk at work. These #hashtag InstaBooks are available for a limited time. So cute!
All the albums at Rag and Bone are hand made in their Rhode Island studio from locally sourced materials. I'm offering their Frame Album full of proofs to all my High School Senior portrait clients in Spokane this year. Want more info on High School Senior Portraits? Check out my 5 TIPS FOR TAKING AMAZING HIGH SCHOOL SENIOR PORTRAITS
No matter how you choose to photo document your family, the important thing is that you do it! Find a system that works for you and get it done so you can embarrass your kids when they bring their future spouse home to visit without having to dig through a pile of outdated CD's…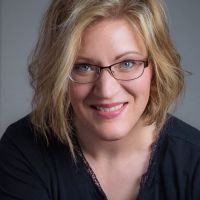 Tanya Goodall Smith
Tanya is the owner of WorkStory Branding Photography in Spokane, WA. Businesses hire her to create story-telling content that sells their high end products and services. She also teachings photographers her unique business model for making serious money as a corporate and personal branding photographer. Find her at
workstoryphotography.com
and
workstoryeducation.com