We have heard the rumors and today, it was made official, as Tamron announced a slew of new lenses as well as a connector to upgrade them.
Tamron SP 85mm F/1.8 VC
Tamron has continued their revamp of their SP line of lenses, this time with a new 85mm F/1.8 to go along with their 35mm and 45mm variants. Also, just as with those lenses, this new 85mm features Tamron's superb VC image stabilization technology (something Tamron was quick to point out in their press release, due to the fact that this is the first fast aperture 85mm to have image stabilization *for DSLR*).
Some other highlights about the new Tamron SP 85mm F/1.8 VC include:
Superior resolving power and attractive bokeh
Fluorine Coating and Moisture-Resistant Construction
Sophisticated eBAND and BBAR coatings plus Advanced Anti-Reflection Technologies
USD actuator maximized for fast and accurate focusing
Compatibility with Tamron's newly announced TAP-in Console
Compatibility with Adobe and Silkypix software
Pricing and availability for the new 85mm F/1.8 VC have not yet been announced. Stay tuned and we will update you as soon as that information is made available to us.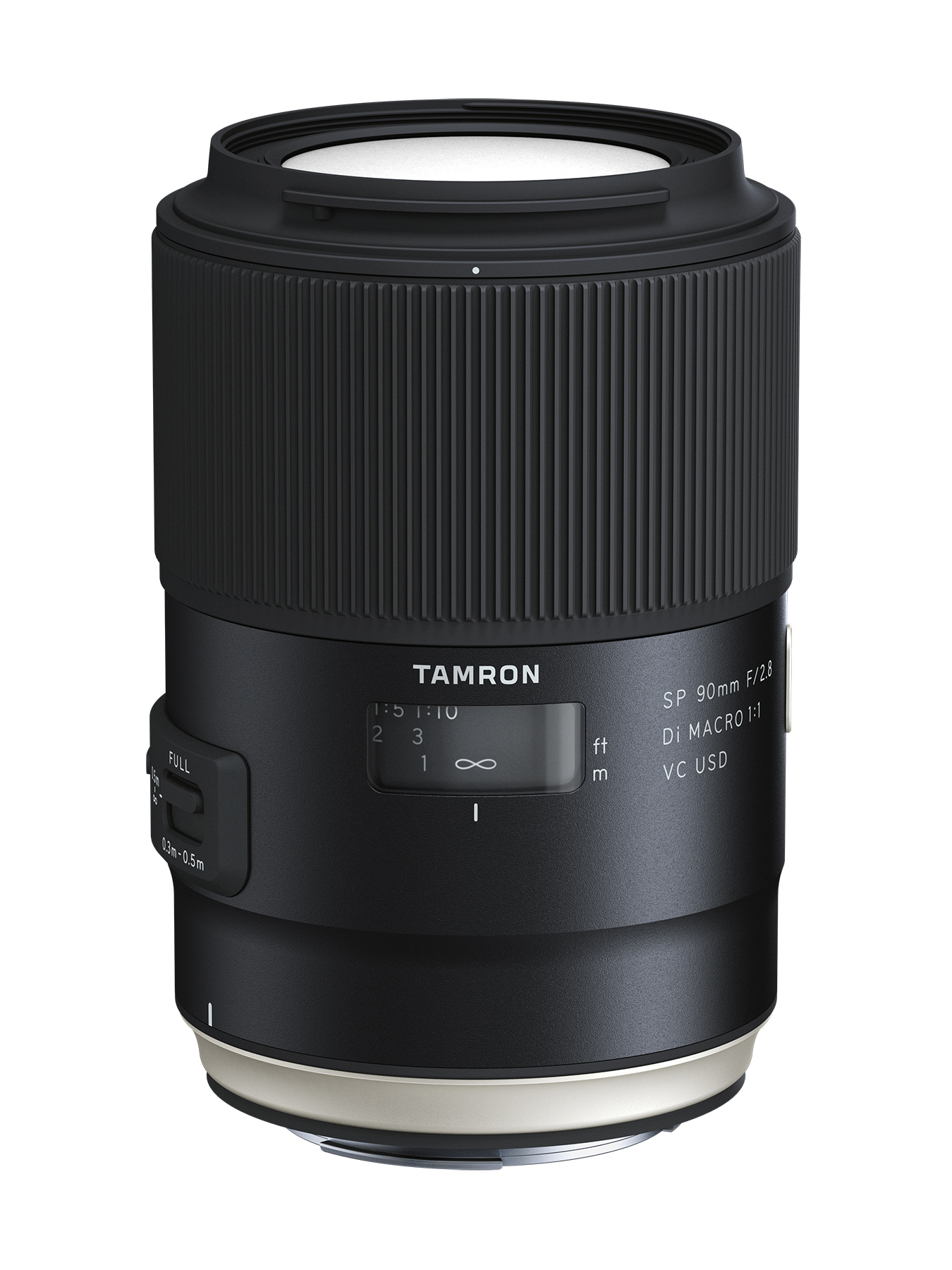 TAMRON SP 90MM F/2.8 VC 1:1 Macro Lens
In addition to the 85mm SP lens announced above, Tamron also launched an updated version of their popular 90mm macro lens. This 1:1 lens has a constant maximum F/2.8 aperture and – like the 85mm – also includes Tamron's image stabilization technology.
Unlike the 85mm, pricing and availability for the 90mm macro was announced. If you are interested in picking one up, they will be available starting February 25th in the USA for a killer price tag of just $649. Stay tuned and we will update this post when pre-order links are available.
TAMRON TAP-In Console
Finally, the last of the Tamron announcements for the day is what they call the Tap-In Console. This unit connects to your lens and allows you to update the firmware and make other changes to how your lens functions.
Essentially, this is Tamron's response to Sigma's USB dock and basically performs the same functions. It will be compatible with Tamron's other two announcements from today, as well as the other two SP lenses (the 35mm and 45mm).
Though, it is notable that in order for you to use the Tap-In Console with your SP 35mm or SP 45mm, you will need to send it into Tamron so they can install the firmware to unlock the Tap-In compatibility. (I believe this is only for units currently out in circulation; new units bought after a certain date will likely have this enabled from the get go).
No price was announced for the Tap-In Console yet, but it was announced that it is expected to start shipping sometime in March.
So, Loungers', What are your thoughts on Tamron's announcements today? Are you drooling over that 85mm? Do you think that Tap-In Console will be a useful accessory? Leave comment below and let us know what you think!