I've been a long time fan of Tamara Lackey and her natural, emotive portraits of kids. Hanssie and I ran into her in the hallway at WPPI and she mentioned her keynote address featuring her top 10 tips for dynamic portraits. I decided to sit in on the class and see what little nuggets of wisdom I could glean from her.
If you weren't able to attend, you're in luck, because I'm going to give you a little peek at what she had to say. I'm sad I don't have all the cool video clips she shared with us, which were actual behind-the-scenes footage of some of her portrait sessions, but you'll just have to check out her blog for some of her amazing resources.
First of all, Tamara shared her gear list with us and I'm sure she won't mind if I share it with you. She's a Nikon ambassador, and while I'm personally not a Nikon shooter, I've heard great things about all their gear. Here's what's in her kit:
Bodies:
Nikon D4s
Nikon D810
Nikon D750
Nikon 1 V3
Lenses:
Nikkor 85mm f/1.4
Nikkor 35mm f/1.4
Nikkor 24-70mm f/2.8
Nikkor 70-200mm f/2.8
Nikkor 105mm f/2.8
Nikkor 50mm f/1.4
Lighting:
Ok, let's move on to those tips for creating dynamic portraits. While all the tips were helpful, Tamara made it clear that these are just what works for her, and every photographer will probably tell you something different, so take what will benefit you and leave the rest. There were 10 tips total, and here are the 5 that I found most helpful.
1. Simplify the Shot
Remove excess. If you don't need it in the shot, take it out, hopefully while you're shooting, but if it's out of your control, remove it in post production. Watch for distracting items in the background, change your angle if you need to, move to a different location, change the lighting. Do whatever you need to do to make that focal point strong.
2. Use the Right Light for the Right Situation
This one seems like a no-brainer, but it's often overlooked. If your images just aren't as dynamic as you'd like them to be, maybe it's time to start adding in some new lighting techniques. If you only shoot with natural light, try using a reflector more often. They are the cheapest and most versatile way to manipulate available light. Other lighting options could include continuous lighting, portable strobes like the new Profoto B2 (check out our initial review by clicking here), speed lights and video lights.
3. Make Small Posing Shifts Often for Maximum Effect
This is such a subtle thing, but something many portrait photographers (myself included) struggle with. Just one little adjustment to a hand or weight shift of a leg can make all the difference in flattering your subject. Tamara said,
"Many people say the best portraits are those where people feel comfortable. I don't always agree."
You might have to pose your subject in an uncomfortable position in order to make them look their best in their portrait. If you want that dynamic shot, go for it!
4. Fill Light, Fill Light, Fill Light
Another basic principle often overlooked or ignored by photographers, yet so important, is adding fill light. I admit, sometimes I'm too lazy to grab a reflector or a bounce a little flash to fill in shadows, thinking I'll just do a little dodging in Lightroom, but when I take the time to do it right, my images always come out so much better. Plus, it ends up taking more time eventually if I have to edit out shadows. Add fill with a reflector, flash or even with a white or grey sidewalk under your subject or a reflective wall nearby if you're on-location.
5. Get Help with Lighting (and Take the Time to Instruct)
Tamara admitted it took her 8 years of shooting before she finally got an assistant to work with her on every shoot and it has made all the difference. If you're struggling to take your images to the next level, this might be the change you need to make. If you can't afford an assistant, ask a parent or friend who happens to be tagging along on the shoot hold a reflector or light for you. Get an intern if you must. Just make sure you take the time to teach them exactly what you want them to do with the light source while you're shooting.
These are only a few of the tips Tamara gave in her presentation. If you ever have the opportunity to hear her speak, I encourage you to do so! To find out more about Tamara Lackey and her new line of LUSH albums, which will be helping to fund her new non profit organization called Beautiful Together, visit her blog.
WPPI is over and it has been an awesome week here in Vegas, especially since I've been able to put so many faces with names I only knew via social media, like the owners at B&H Photo. Thanks for sponsoring SLR Lounge here at WPPI 2015.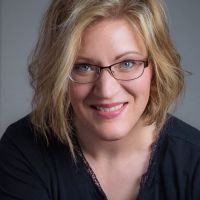 Tanya Goodall Smith
Tanya is the owner of WorkStory Branding Photography in Spokane, WA. Businesses hire her to create story-telling content that sells their high end products and services. She also teachings photographers her unique business model for making serious money as a corporate and personal branding photographer. Find her at
workstoryphotography.com
and
workstoryeducation.com