One of the wonderful things about Photoshop isn't necessarily its ability to fix 'flaws' or to add/remove things from inside of a photo, but rather the ability it lends to produce numerous styles from one shot. In order to achieve that before Photoshop, the shoots would have to be planned accordingly, and while thats's fine, it still wouldn't be quite the same.
Stylization in Photoshop is an artistic endeavor, and how you manipulate the program, and the image, is all up to you and your style. You do have to know how to do this, mind you, and Phlearn's Aaron Nace does a great job highlighting how to do this using blending modes. Blending modes, in my experience, are sort of a gray area for many users; they don't quite know what each does, nor do they know really how to apply them in their workflow. Well, I could tell you how important they are, but after watching this video for about 2 minutes, you'll not need any explanation.
From sharpening, to brightening, colorizing via adding a color fill, adding depth but drawing out highlights and darkening shadows, blending modes offer a smorgasbord of variety in effects, and all can be masked, toned down etc, making their use extremely versatile, and great for re-working.
Thoughts
In my humble opinion, this is one of Aaron's most broadly applicable and useful tutorials. Blending modes are such essential and often overlooked tools, and seeing Aaron work with them can be an eye-opener. He wields them like a weapon, bringing out textures in clothing and skin, details all over, brings focus to the center of the image, and adds color for effect.
What's always great about his videos are the small tips he's keen on handing out and the explanation of each step he takes. You'll become acquainted, if you're not already, with creating your own shortcuts, what are and how to use 'Blend If' layer styles, get a glimpse into how the ordering of layers affects the image, how to bring back colors into lightened areas, and more.
As always, if you are a fan of Aaron's teachings (and who isn't?), be sure to check back here for updates, and follow along with Aaron on YouTube and Phlearn. You should also consider becoming quickly adept at Photoshop with the Phlearn Photoshop 101 & 201 sets as they are extremely comprehensive, and will have you quickly doing things with Photoshop you may have otherwise thought too complex, or didn't even know you could do.
Source: Phlearn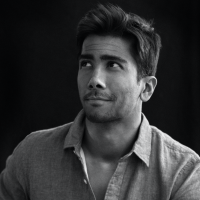 Kishore Sawh
A photographer and writer based in Miami, he can often be found at dog parks, and airports in London and Toronto. He is also a tremendous fan of flossing and the happiest guy around when the company's good.