Leica was among numerous photo companies that announced their upcoming gadgets at Photokina 2016, but they seem to have something up their sleeves that even they don't know how to fully explain.
The Leicina VC is a conceptualized gimbal camera system, similar to the likes of the DJI Osmo, combining a sensor & electronic viewfinder with smartphone control. Newsshooter had the opportunity to speak with a Leica Rep regarding the obscure concept camera and somehow I feel like we know less about it after watching the video than we did before.
With it's name and aesthetic derived from reputable Super 8 movie cameras, this unusual creation is devised to act as a visualization tool, an assistant to help configure and compose your scene. The rep teeter-totters between the idea of it being a recording camera or a glorified viewfinder, leaving us all puzzled by the end as to whether or not it is an accessory or an actual device.
The ultimate composition accessory?
The lens has the Leica L mount, from their SL camera, which allows different lenses to be mounted to the device permitting you to own the appropriate adapters. The integration with smartphone technology allows you to control settings and see a clear depiction of your scene (which once again, isn't quite revolutionary as we've seen it before with the Osmo). The only real difference is that the Leicina flaunts the idea of the Huawei P9, which of course is known for "reinventing smartphone photography" with Leica's dual-lens camera system. There will be an app on the smart device that controls settings and allows for external monitoring. The smartphone can be connected via wi-fi so you could potentially give the phone on to a director or producer to see what you are visualizing.
Although it is technically in its conceptualized phase, it's unnerving to think that Leica might release a product along these lines to the public at some outrageous price point when its utility doesn't seem to serve much of a purpose. Seeing that the gimbal camera system isn't considered groundbreaking anymore, it will be interesting to see whether they take this concept into full production and build on additional features with the prospect of larger lenses.
See for yourself in Newsshooters interview with Leica at Photokina 2016:
Source: Newsshooter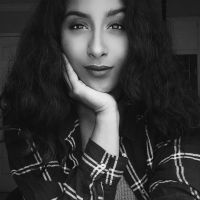 Shivani Reddy
Shivani wants to live in a world where laughter is the cure to pretty much everything. Since she can't claim "Serial Bingewatcher" as an occupation, she'll settle for wedding/portrait photographer at Lin and Jirsa & marketing coordinator here at SLR Lounge. For those rare moments when you won't find a camera in her hand, she will be dancing, eating a donut, or most likely watching Seinfeld. Follow her on Instagram:
@shivalry_inc