I've always been fascinated by sea life. In high school, I was the cool kid in art class that drew murals of Orcas, had posters of dolphins up on my walls and covered my notebook with photos of my trips to Sea World. (And no, I didn't have a boyfriend, if you were wondering).  There's something about the sea that is mysterious and daunting, especially if there is not a thick piece of glass separating you and the creatures below.
[REWIND: CREATING ART WITH A CAMERA – INTERVIEW WITH NATURE AND CULTURAL PHOTOGRAPHER ART WOLFE]
Underwater photographer Nadia Aly gets up close and personal to sea creatures daily as part of her job. She left the corporate world to chase her dream of traveling and began Scuba Diver Life, a group who shares the love of scuba diving. Recently, Nadia was diving in Palau, in Jellyfish Lake, aptly named for the millions of jellyfish that inhabit the algae rich waters. Each day the jellyfish migrate from one side of the lake to the other as they follow the sun. While snorkeling in the lake, Nadia found herself right in the middle of the bulbous creatures.
Because the lake has no predators, the jellyfish have evolved and have lost their sting and so people need not fear of getting stung, making the lake a popular snorkeling spot. Nadia was there over the period of several days shooting underwater and captured hundreds of shots.
Once I found them, I was overwhelmed with the sheer amount of jellyfish that were around me.I was nervous, as I didn't want to kill any with the movement of my fins as they are literally all around you.
Getting to the jellyfish, can be quite challenging, as you have to walk through the jungle, carrying not only your snorkeling equipement, but also your photography equipment, which is why Nadia chooses to travel lightly. Carrying a Canon 5D Mark ll protected by an Aquatica Housing and Wide Angle Port, Nadia also has to be aware to avoid the toxic layer in the lake when free diving.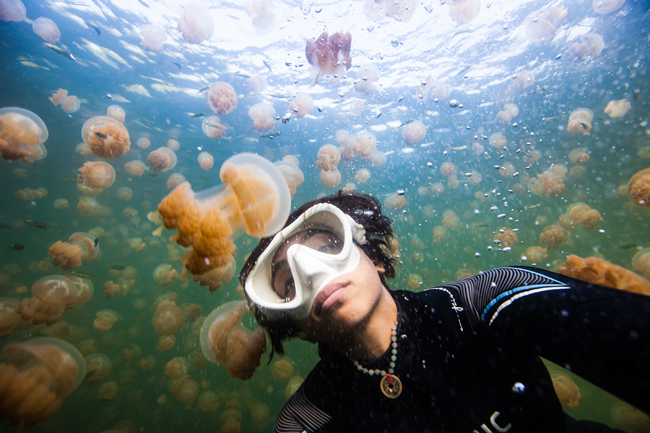 Nadia then processes her images using the SLR Lounge Lightroom Presets.  See more of Nadia Aly's work, much of which is of underwater sea life, on her website.
via GrindTV
CREDITS: All photographs shared by Nadia Aly are copyrighted and have been used with permission for SLR Lounge. Do not copy, modify or re-post this article or images without express permission from SLR Lounge and the artist
Hanssie
Hanssie is a Southern California-based writer and sometimes portrait and wedding photographer. In her free time, she homeschools, works out, rescues dogs and works in marketing for SLR Lounge. She also blogs about her adventures and about fitness when she's not sick of writing so much. Check out her work and her blog at
www.hanssie.com
. Follow her on
Instagram