Iranian Photographer Hossein Zare's digital manipulations tell a story. An otherworldy, surreal dreamlike narrative where cityscapes are mirrored, ladders are suspended from nowhere, and going to nowhere creating a visual feast for the eyes. We've featured his black and white minimialistic photography in a past article, and throughout Zare's work a theme of aloneness prevails.
Viewers are left to imagine the sequence of events that leads the lone man to his solitary world and the imagery left by the ladders, tightrope walking and cloud pulling to form their own conclusions of a surreal world created by Zare's photographs and Photoshop wizardry.
Zare's images invites us to be onlookers in this man's world and somehow engages us to reflect upon our own in the process.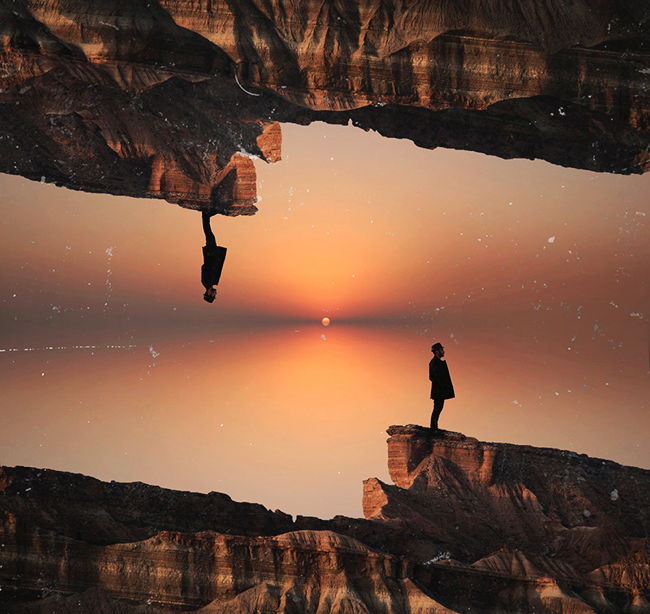 You can see more of Hossein Zare's work on Facebook.
CREDITS: All photographs by Hossein Zare are copyrighted and have been used with permission for SLR Lounge. Do not copy, modify or re-post this article or images without express permission from SLR Lounge and the artist.
[via @Laughing Squid]
Hanssie
Hanssie is a Southern California-based writer and sometimes portrait and wedding photographer. In her free time, she homeschools, works out, rescues dogs and works in marketing for SLR Lounge. She also blogs about her adventures and about fitness when she's not sick of writing so much. Check out her work and her blog at
www.hanssie.com
. Follow her on
Instagram