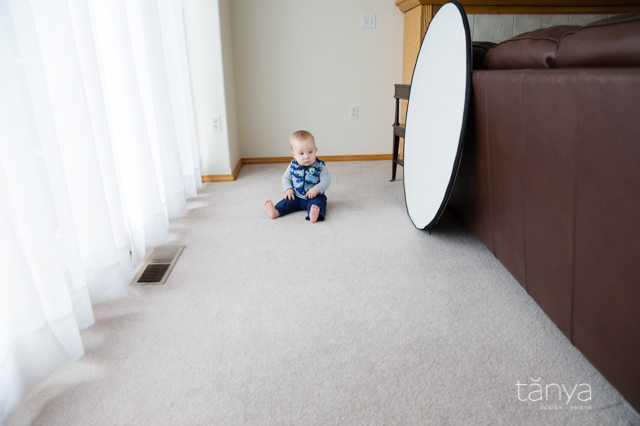 Welcome to Time Out with Tanya, where I've put my fast paced graphic design career on hold in favor of adventures in motherhood. I'm capturing every moment on camera and you can come along, if you'd like. Sign up for my weekly email here so you'll never miss a Time Out.
In Part 3 of our No Studio? No Problem! Series, I'm sharing some ideas for creating professional portraiture in the Living Room area of a home. Click here to read No Studio? No Problem! Part 1: Mobile Photography Studio Kit, where I list all the gear I use on-location, and Part 2: Shooting in the Master Bedroom.
Natural Window Light
If you're lucky enough to have a huge set of north facing windows in your home, there's no reason you can't shoot with natural light during the day, especially if you have a camera and lens that can handle lower light situations. In the above image, I'm simply using light coming in from the windows at camera left and shooting with the Canon 5D Mark III and Canon 50mm f/1.4 lens. I use sheer white curtains on my windows for a nice diffused light. I actually keep a couple of these curtain panels in my camera bag for use on-location, in case I want to use window light and it's a little too harsh.
Natural Light with Reflector
Here I'm shooting in the same little corner of my living room, this time with a Canon 24-70mm f/2.8L lens and I've propped a reflector up on the back of the sofa to bounce a little light onto the other side of the face. This works really well and doesn't require any additional lighting set up. I personally prefer photographing kids with natural light whenever possible.
Of course, I'm editing my images with the SLR Lounge Lightroom Preset System. For this image, I simply used the Standard Color Import preset. One click. Boom. Done!
Continuous Light
For this set up, I was being a little lazy and didn't want to drag out my backdrop stand, so I just taped a roll of paper to my fireplace mantel. Why didn't I think of this sooner??! I also happened to have a new NEEWER LED Video Light, and wanted to test it out for still photos. I placed it inside an octagonal umbrella modifier at camera right as a fill for the window light at camera left. It worked great!
Flash
This portrait was from a session during the month of December, which is frigid and dark here in Spokane. The whole family was together for Christmas and the mom wanted portraits taken in the home. No problem. I simply set up one Speedlite on a light stand and bounced the flash off the ceiling. It was quick and easy to move around as needed.
For a more dramatic look, set up a backdrop and use your flash with a soft box modifier and grid, which is exactly what I did for this Super Hero birthday party photo booth. In hindsight, I wish I'd placed a second light to the left, to highlight the hair and separate the kids from the backdrop a little, but, learning by experience is my favorite part of photography. I'm constantly experimenting and improving.
For more information about creative lighting, check out the SLR Lounge Lighting 101 Workshop DVD, available in the SLR Lounge store. Click here to view more details.
So, how do you create memorable portraits in the homes of your clients? One commenter following the previous article in this series thought photographing in the bedroom of a client's home was totally unprofessional. Do you agree?
CREDITS: All photographs by Tanya Smith are copyrighted and have been used with permission for SLR Lounge. Do not copy, modify or re-post this article or images without express permission from SLR Lounge and the artist.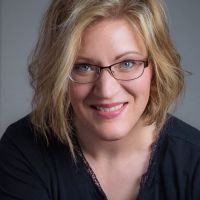 Tanya Goodall Smith
Tanya is the owner of WorkStory Branding Photography in Spokane, WA. Businesses hire her to create story-telling content that sells their high end products and services. She also teachings photographers her unique business model for making serious money as a corporate and personal branding photographer. Find her at
workstoryphotography.com
and
workstoryeducation.com