Welcome to Time Out with Tanya, where I've put my fast paced graphic design career on hold in favor of adventures in motherhood. I'm capturing every moment on camera and you can come along, if you'd like. Sign up for my weekly email here so you'll never miss a Time Out.
In Part 2 of our No Studio? No Problem! Series, I show you how to create professional quality portraiture at home or on location. Click here to read No Studio? No Problem! Part 1: Mobile Photography Studio Kit, where I list all the gear I use on-location.
Why The Master Bedroom?
My favorite place to photograph infants is in the master bedroom. There's generally a nice big window in the main bedroom and a big bed where you can get the baby up off the drafty floor. This eliminates the need for a specialty posing bag or block. Newborns and young infants generally stay put, but it's always safest to have a helper nearby to make sure they don't roll off the bed. Babies who are crawling and climbing probably won't be great candidates for having their photos taken on the bed, so you'll have to find another space for them (stay tuned later in this series for ideas).
Shooting in the Master Bedroom isn't limited to newborns. As a typical gathering place for parents and children, it's a natural place for a lifestyle type family portrait. Obviously the Master Bedroom is an ideal space for Boudior or Maternity portraits, too.
How to Light It
Natural Light
No need for fancy equipment if the light coming in from the window is sufficient. The above photo was taken with a crop sensor Canon Rebel and kit lens. With natural light coming in from the Master Bedroom window, I simply stood over the baby on the bed and snapped away.
Natural Light with Reflector
Before I learned how to use off camera flash, a 5-in-1 reflector was helpful as a light modifier or for directing a little fill light. This image was shot on the same bed as the previous, with window at camera left and a reflector held at camera right. One thing to watch out for, is textiles or walls which might cause a color cast on the skin of your subject. You can see I have that problem here. The quilt is reflecting red light onto the baby's skin, especially on the cheeks and under the chin. Watch out for that. I was able to lessen the redness in Lightroom somewhat, but it's usually better to just choose a more neutral backdrop.
Bounce a Flash
Unfortunately, the odds are pretty slim you'll have gorgeous natural light coming in the window during all hours of the day, which is why knowing how to use a flash, at least for a little fill light, is so important. The above image was shot with the Canon 5D Mark III and Canon 24-70 f/2.8L II lens at 70mm. I set up a backdrop stand toward the head of the bed and hung a grey blanket as a backdrop. I'm using a simply Boppy Pillow tucked under the blanket to prop the baby.

As you can see in the catch light, I have my Canon Speedlite on a light stand behind me and I'm simply bouncing the light off the wall and ceiling. The walls in the room are white, which are ideal for this situation. Watch out for purple, blue, red or any other strong colored walls or ceilings when bouncing a flash, because they'll cause a color cast, like the red quilt above. One way to get around that problem is to bounce the light off your reflector or use a light modifier.
Use a Light Modifier
Using a light modifier, like a softbox or umbrella, allows you more control over the light. When you bounce the light off the wall or ceiling, it essentially turns the entire room into one large softbox, which is fine if you simply want to blast your subject with a lot of light, but sometimes you want more control. In this image I'm allowing some ambient light from the window at camera left to expose the image, as well as an octagonal umbrella softbox at camera right. Here's an Instagram behind-the-scenes shot (I'd love to follow you on Instagram, by the way. Follow me and I'll find you!)
For more information about creative lighting, check out the SLR Lounge Lighting 101 Workshop DVD, available in the SLR Lounge store. Click here to view more details.
Most of these images were edited with the SLR Lounge Lightroom Presets System. My editing style is pretty minimal (I like a timeless look), and even though I don't go for a lot of special effects, the preset system saves me a lot of time.
Have you conducted any photo sessions in the Master Bedroom of your own home or that of a client? What were the challenges? Successes? Share a link to your favorite image in the comments. I'd love to check them out.
CREDITS: All photographs by Tanya Smith are copyrighted and have been used with permission for SLR Lounge. Do not copy, modify or re-post this article or images without express permission from SLR Lounge and the artist.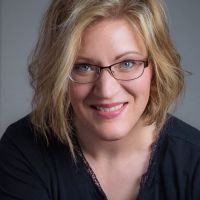 Tanya Goodall Smith
Tanya is the owner of WorkStory Branding Photography in Spokane, WA. Businesses hire her to create story-telling content that sells their high end products and services. She also teachings photographers her unique business model for making serious money as a corporate and personal branding photographer. Find her at
workstoryphotography.com
and
workstoryeducation.com