Lea Hartman is many things. A family photographer serving the Fayetteville, North Caroline area, she also wears the hat of mom and so called Army Wife, a roll she finds more difficult to fill than she ever imagined. In her personal project dubbed The I Am Project, Lea photographs fellow Army Wives in an attempt to give a voice and a face to the title. Each woman in the on-going project is asked a simple question. "What is it that you most want people to know about you as an Army wife?" Each woman choses her own word.
I wanted to find out a little bit more behind the photographer and her project. Be forewarned, writing up my interview with Lea brought a few tears to my eyes, so you might want to grab a tissue…
Tell me about your photography background?
My first real exposure to professional photography came when I was just 17. I did a bit of modeling that summer and though I quickly found that modeling wasn't for me, I was keenly aware of the photographer, Kurt Markus. I watched him as he set up his shot, listened as he offered clear direction to myself and the other models and I was fascinated. I have those prints hanging on my wall and though it would be a decade before I would really begin to pursue photography myself, that experience has always served as an inspiration to me.
It wasn't until my husband's first deployment in 2008—piggybacked by Ranger School—that I truly dove in. His first two years of service, he was home only five months. It was an incredibly lonely time for me and although I love my children dearly, I was still battling some postpartum depression and motherhood just wasn't enough to keep me going. Learning, growing and shooting saved my sanity and gave me something to focus on when all I really wanted to do was give up.
How did your project get started?
Once I began to heal mentally and emotionally, I was able to stop focusing only on myself and instead start seeing the women around me with fresh eyes. The truth is that I was very self centered. I had been living in the land of "woe is me" but in reality, my hardships were nothing new. It was incredibly narrow minded of me to think that I was worse off than anyone else.
As I met and interacted with my new peers I realized two things. 1) Being an army wife is absolutely nothing like the TV show and, 2) these are the strongest women I have ever met.
Their level of devotion, their courage and their positive outlook is like nothing I have ever seen. I wanted others to see it as well. They are often referred to as "The Silent Ranks" because while they may not wear a uniform, they serve every bit as diligently as their husbands. I have chosen to focus on army wives because my husband is in the army but this is true of all military spouses.
How did you come up with the idea of writing on the women's bodies instead of just holding up a sign or something?
Honestly, I did photograph one woman holding a sign rather than having her statement written on her body. It just didn't work. It felt detached, emotionless. The statements are not mine. Each woman determines her own 'I Am' statement and because they are so personal, I felt they needed to be a part of the women. Wearing their statements is a way for them to truly own them. That's what the project is all about.
How do you find the wives for your ongoing project? Are they all women you know personally? Do you charge for the shoot?
I don't charge anything for these sessions and it's not something you can commission me for. I'm very selective about who I photograph. I don't like to be dogmatic but I do think a personal relationship is important for this project. For me, this isn't just a cool idea to add to my portfolio. It's really a way for me to give something back to these women who have given so much to me. Not everyone is in a place to make such a public declaration. To see their faces as I'm painting words on their body, to watch their reactions as I show them their image…it's very powerful. This is a deeply emotional experience for these women and in some cases, it's very therapeutic as well.
You had a piece exhibited in the National Military Spouse Small Works Art Exhibition last weekend. How did that go?
Wow! That was really an honor. Drawing attention to the amazing women who stand behind our soldiers is one of my main goals and if even one person who walked through the gallery stopped and really looked past the display, past the image and saw Sarah, if they took a moment to empathize with her sacrifices and say a silent thank you, then it was a success.
What is the biggest challenge you face as a military wife and how do you overcome it?
The biggest challenge I face is my own pessimism. There are the obvious hardships like the long separations and worrying your soldier won't come home. It's not easy explaining to my son why Daddy has to miss his birthday again (he's missed five of our son's seven birthdays). Some days, the challenges seem to far outweigh the perks. During those times I can choose to wallow in misery, which will actually make me miserable, or I can choose to be thankful for my blessings. Ultimately, I know that no matter what happens, God will see us through and that He has never asked us to do anything that He hasn't given us the strength to accomplish.
If you were to do a self portrait for the project, what would your "word" be and why?
I'm not sure how many women I'll photograph before I feel like the project is complete. Eventually, I'd love to publish the images in book form and have the proceeds offer support to military families.
I have always known that the last photograph I take will be of myself and in big, bold letters across my body you'll read, "I Am Enough." I just need to believe it first.
When your husband is deployed, how do you find time to work as a photographer? Do you hire child care?
One thing you'll learn in military life is that time doesn't stop when your spouse is gone! I used to take deployments off but that was actually very isolating. Now, I schedule my sessions normally and hire a sitter for my kiddos if needed. However, I only work two weekends per month (and some weeknights as well) so that I make sure we get enough family time.
What gear do you love and use the most? What new piece of gear is on your wish list?
I learned early on to rock what I've got and in fact, when I first started learning about photography that meant using a little point and shoot Nikon! I didn't get my first DSLR until months later. Currently, I shoot with the original Canon 5D (although half of the images for The I Am Project were actually shot with a Canon 40D), a Canon 50mm f/1.4 and a Canon 85mm f/1.8. Sorry to disappoint all you gear junkies out there!
These few items are really all I need to create the art I want to create. If I ever feel like they're not doing what I want them to do, then I'll definitely upgrade. I think it's important for all aspiring photographers and professionals alike to remember that we create the art and the gear is just the tool. Use whatever tools allow you to execute your vision. I've seen some pretty rockin' iPhoneography!
Anything else you want to share? Advice on committing to a personal photography project?
Not only is this project very personal for me but it's also a complete separation from my client work which allows me to be creative and express myself photographically in other ways. It offers me inspiration and breaks up the mundane, as client shoots can sometimes become. For this reason, I think anyone would benefit from a personal project. It could be landscapes, wildlife, architecture…anything you want that you're interested in. Just remember to have fun with it. There are no deadlines, no stress. Have fun. Relax. Then take that refreshed perspective into your client sessions and rock those too!
[SLR LOUNGE REWIND: Check out one of my favorite personal projects, Self Portraits by Chinelle Rojas Reflect Social Issues Affecting Women Worldwide]
Wow, such inspiring words! As we head into the holiday season here in the United States, I'd love to give a special shout out and thanks to all our service men and women (and their spouses). Thank you for your dedication and courage. Connect with Lea on her website (she has a really cute blog, by the way) or on Facebook.
CREDITS: All photographs by Lea Hartman are copyrighted and have been used with permission for SLR Lounge. Do not copy, modify or re-post this article or images without express permission from SLR Lounge and the artist.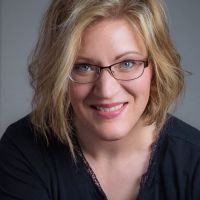 Tanya Goodall Smith
Tanya is the owner of WorkStory Branding Photography in Spokane, WA. Businesses hire her to create story-telling content that sells their high end products and services. She also teachings photographers her unique business model for making serious money as a corporate and personal branding photographer. Find her at
workstoryphotography.com
and
workstoryeducation.com