Our "SLR Lounge Awards Artist Feature" articles highlight SLR Lounge Awards winners, some of the very best wedding photographers around the globe. This article features Stefan Czajkowski (Stefan Czajkowski Photography, Frankfurt, Germany). Stefan is an internationally recognized, multiple platform award-winning wedding photographer, well known for his dramatic portraiture, in particular his portraits in the dark.
Stefan has won two Apex Awards for wedding photojournalism, in July, 2017, and February, 2018. SLR Lounge's curators select the Apex Awards from the top 1 percent of submissions.
Read on as Stefan shares his "5 Best Practices for Photographing Dramatic Portraits in the Dark."
Thanks for sharing your awesome work with the SLR Lounge community, Stefan! What do you love best about photographing portraits in the dark?
I love taking photographs in the dark. And I especially love creating dramatic portraits in the dark! Why? Because it's that one time, on the wedding day, where I can best control, and influence, the lighting conditions!
What are your best practices for photographing couples in the dark, and creating the dramatic portraits for which you are known?
1. Search for interesting looking ambient light. The first thing I do when I shoot in the dark is to look for a source of ambient light. Whether it is an interesting looking lamp, a magnificent chandelier, or some candles. To capture the ambient light, I use a shutter of 1/125, otherwise it might not be visible in the final photo. Then I set the ISO to maybe 400 (or less). Finally, I use a flash to darken the rest of the environment.

2. Take advantage of the ambient light's different light temperatures. What we try to avoid during the day, namely mixed lighting conditions, we can take advantage of when taking portraits in the dark. Different parts of the photograph can have different colors due to the lighting source. For example, the background can be blue because of cold LED lighting. Meanwhile, the foreground might be orange because of the flash's daylight temperature.

3. Do not point the flash directly onto your couple. As we all know, pointing the flash straight onto your couple can create non-flattering light. So, you'll need to adjust the lighting angle a bit. I like to have it at 45 degrees to the couple, which will provide more depth and dimension. Another way to keep the lighting interesting is to position the flash behind the couple. Of course, you have to shoot wide open, so it has some effect on the environment.

4. Use reflections to make the composition more interesting. Sometimes the ground or surrounding of the environment can be quite distracting. Therefore, I sometimes use reflections to cut through those distractions. For example, I might tend to get really low with my camera, even touching the ground. This technique helps to fill a lot of space in the composition, eliminating those distractions. Of course, in terms of the final composition, it works best if the ground is a bit reflective.

5. Underexpose to capture silhouettes. Sometimes it is not about exposing for the couple, but exposing for the background. What you gain by doing this is an underexposed dark couple, or silhouette. But to make the shape of the silhouette work, you need a clean background. This can be achieved by using a background that is lit. You can also position your flash behind the couple, pointing to a wall for example. Then the flash will create a highly exposed spot where the couple's silhouette stands out of.
We'd love to know what you're most excited about for the rest of 2018?
Well, I really enjoy interacting with colleagues in person. Therefore, I am really looking forward to photokina (Cologne, Germany, September, 2018). I look forward to it not only because I am a pretty heavy tech nerd and they'll be lots of new gadgets . I will enjoy the chance to meet with photographers from all over the world.
And how about one last question? If you could photograph anywhere in the world, where would you love to photograph?
It would definitely be a ceremony during sunrise on Mount Bromo  (East Java, Indonesia). Mount Bromo is an active volcano near my birth town. A couple of years ago I had the chance to see the sunrise over there. It was so impressive for me, to see the change from night to day in such a dignifying environment. You can see so many totally different landscapes in such a small area, caused by the lava. It is a very impressive place on the earth.
You can see more of Stefan's work on his website; as well, be sure to give him a like/follow on Facebook/Instagram.
Check out the latest SLR Lounge Award Winners here. Don't forget to submit by the September 30 deadline to be considered for SLR Lounge's September 2018 awards competition. And, finally, remember that anyone can sign up for an SLR Lounge account for free and submit, but Premium Members are able to submit up to three photographs each month!
All photographs are copyrighted by Stefan Czajkowski of Stefan Czajkowski Photography and have been used with permission for SLR Lounge. Do not copy, modify, or re-post this article or the included photographs without express permission from SLR Lounge and the artist.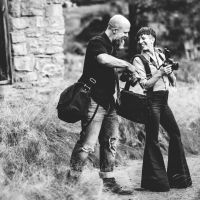 Amii & Andy Kauth
Amii & Andy are a wife and husband team of rad portrait and wedding photographers (Sunshine & Reign Photography) who absolutely love life and are generally just stoked! Yeah! When they aren't photographing or writing and teaching about photography, you'll find them off on a seriously legit adventure with their little ones, lifting weights in their garage, training jiu-jitsu, refining their archery skills, or surfing every chance they get. And on the rare chance they escape off on a "date night"? Yep! They'll find a wedding to crash (true fact). Website:
Sunshine & Reign Photography
Instagram:
@sunshineandreign