In case you'd been too caught up making signs to petition the NetNeutrality repeal this week, Star Wars is back in cinema, and given it's the late Carrie Fisher's last appearance in the iconic franchise, it's an even more important one.
How it has done so well doesn't take Poirot-level inspection to understand why it has resonated with so many for so long. Simply put, it's because the underlying story is as old as time. It's good versus evil – the dark lord fighting the princess and her knights for freedom and virtue.
In the realm of enduring film franchises there really are only three that come to mind if you're out of your teens: Star Trek, Star Wars, and Bond, and Star Wars is the one that could possibly be the most enduring, even if it's the most 'fanciful'. In fact, it's that the others are somewhat bound by reality that they may expire, but Star Wars isn't. However, while it's not bound by such mortal limitations, the same can't be said for the cast.
In the images you see here, photographer Jason Bell captures the main cast of The Last Jedi for British Vogue, spare one glaring, Leia-shaped omission.
The images are beautiful though, and strikingly fitting for Star Wars, with the lights reminiscent of what could possibly be the most iconic movie weapon of them all, the Light Saber.
That Bell would manage to capture something unique in concept regarding a franchise that's been around for so long should come as little surprise. For those who are unfamiliar, the Oxford educated Bell is an extremely accomplished photographer whose images can be found in the National Portrait Gallery's permanent collection, and his client list reads like the RSVP list at the Oscars, and then sealed with the royal stamp as he's earned an Honorary Fellowship of The Royal Photographic Society.
Have a look at the shots and enjoy as they manage to capture the Star Wars-'ness', and will likely even more solidify your argument that the Lightsaber is indeed the most iconic weapon in film history. Except, you'd be wrong. It's the Walther PPK. End of discussion.
See more of Jason's work on his site and Instagram, and see the rest of the set of images here.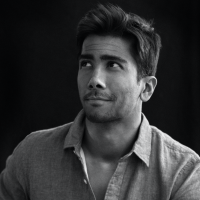 Kishore Sawh
A photographer and writer based in Miami, he can often be found at dog parks, and airports in London and Toronto. He is also a tremendous fan of flossing and the happiest guy around when the company's good.