Remote controls are so… 2015.
With the Olympics just around the corner, photographers are waiting patiently to see the remarkable images to come forth from the games that highlight gear we have only dreamed of using or creating. With the quick paced advancements of photo & video technology, monumental events such as the Olympics have unparalleled media coverage, offering varied angles and producing high-resolution content, and you can't help but think the drone featured below would be perfectly suited.
It's called Staaker. Yes, pronounced exactly how you think it is (Stalker), the GPS drone that uses a tracker to follow and film you automatically. Although this pursuant isn't one of the tools to be utilized for the 2016 Olympic Games in Rio, it is by far one of most brilliant resources for sports photographers and enthusiasts worldwide. Using artificial intelligence, Staaker anticipates your every move, finding the corresponding angle that compliments your movements. It's four rotor arms come pre-assembled with propeller blades attached, all you have to do is move and like the name suggests, it follows in pursuit.
I'll Stalk The World & Melt With You
It is controlled by a modestly-sized tracker, strapped to your arm for convenience, containing a "GPS radio that's 20-times stronger than the GPS in the iPhone." It has a small LCD screen with 8 navigation buttons – compare that to the monstrous DJI Phantom controller and you are looking at two very distant cousins. The $1,200 waterproof drone has several operable modes that follow you around without having to navigate it through terrain but still maintaining the ability to control it's path if need be:
Follow – The pilot positions the drone in the sky, and then it follows the pilot at up to 50 mph, always maintaining the same relative distance while ensuring a smooth and straight flight.
Circle – circles around you no matter what you do, whether you are stationary or moving.
Compass – Using Staaker's built-in compass to keep it pointed in a certain direction, the drone will literally stalk you, keeping a picturesque scene in the background as you move.
Hover – holds a fixed position (selected by you) and will automatically turn the camera to follow you. Perfect for capturing you jumping up close.
Scenery – Meant to capture panoramic and tracking shots. It will send the drone straight out or back to you in one direction while you control the altitude.
Upcoming Updates for the Staaker Drone
Video footage is currently recorded by the GoPro Hero 4, the champion of all convenient adventure, travel, and sports photography and videography. Unlike its heavyweight competitors such as the DJI Phantom or the Yuneec Typhoon, Staaker hasn't produced their own recording device but hopes to implement an HD camera in the future.
The one downside, especially for this generations petulant need for instant satisfaction, is that you are unable to see "what the drone's GoPro camera sees until you offload the video later." The update is already in the making for this huntsman of a drone, an advanced controller with a "large, color touch-screen, complete with real-time video feed" is expected for later next year says VP of Marketing for Staaker Mike Luff to Mashable.
See if you are ready to be pursued: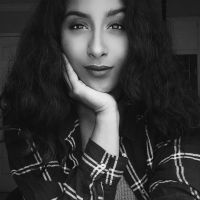 Shivani Reddy
Shivani wants to live in a world where laughter is the cure to pretty much everything. Since she can't claim "Serial Bingewatcher" as an occupation, she'll settle for wedding/portrait photographer at Lin and Jirsa & marketing coordinator here at SLR Lounge. For those rare moments when you won't find a camera in her hand, she will be dancing, eating a donut, or most likely watching Seinfeld. Follow her on Instagram:
@shivalry_inc