Photography is one of those careers where the term is such a broad stroke and realistically you should select a field to focus on. Even if you were to define yourself as a fashion photographer you can be further categorized as runway, catalog or editorial. Portrait photographers can specialize in maternity, family, newborn, etc. There's a multitude of possibilities to aim my camera at and my business to conquer, but you can't always be everything to everyone. Choosing a path allows me to channel my efforts, money and decisions onto a targeted market. But sticking to that path has been a challenge.
I've realized these last few weeks the reason why I had a hard time focusing on just one genre of photography. It's because I'm a wedding photographer and shooting weddings has primed me for a multitude of possibilities…oh and because I need to pay my bills.
I've Had A Little Taste Of So Much
As a wedding photographer, I've had to learn family portraiture, beauty, editorial, boudoir, journalistic, product photography, event photography, food photography and architectural photography to name a few. I've used natural light, strobes, ambient light, soft, hard and quirky. I've survived the pickiest of art directors (aka bridezillas and their moms) in the most high strung and chaotic environments. I've had to make something out of nothing in the least desirable shoot spots, but I've also had the privilege of shooting the beautiful, exotic and inspired. Wedding photography has introduced me to so many possibilities. It's like the general ed of photography and all that exposure makes me think that I can do it all. And that right there, is part of the dilemma.
Paying the Bills
My photography mentor once told me that in this industry, we do what we need to do to survive. During the low season, you make the deals that you have to make in order to meet your monthly financial obligations. Once that base is covered, you can go back to sticking to your guns, your selected niche and your prices. And he's right. Our industry is on the side of unpredictable and even the best of the best worry about making their numbers. Nobody ever rests easy and competition is stiff. For some, the way to financial peace is foraging through the low hanging fruit of other arenas in photography. And that, is the other half of the dilemma.
I know the argument about specializing. I know it well. I also know what it's like to have a dry spell and wonder how you're going to make your bills. It's easy enough to run a quick two day marathon special of family photos to make the equivalent of one wedding in profits with less work and headache. One successful run and you start questioning why you don't do it more often. I've only successfully run 2 specials a year by the way, any more than that and I'm hearing crickets. But other opportunities open up all the time. Inquiries come knocking on corporate events, head shots, maternity and newborn for last year's bride, real estate photos for the groom who's in the industry and so on and so on.
This isn't a rant piece. It's not an opinion seeking piece. It's an empathy piece. I want the rest of my fellow photographers to know that you're not alone in this dilemma. So … should you turn it down? Give it a try? How much do you charge? More decisions! And honestly, every time I dip my toe into any one of those fields, my conscience gives a tug. I feel guilty for undermining the industry. I'm not charging enough because I don't feel like I'm well versed in that arena. I feel guilt for myself and not believing in my abilities enough. I feel bad for the client who I know deserves the best from someone in that specialized field. But then I balance the books and the voices in my head say "shuddup, you NEED this."
Conclusion
So, let's settle the debate. Should you specialize? It's a good exercise to focus your energy in your chosen path. There's a lot of benefits to specializing, but if your doors are about to close because your specialty didn't bring enough business in that month then you need to move your toosh off that specialty chair and do something about it.
[poll id=63]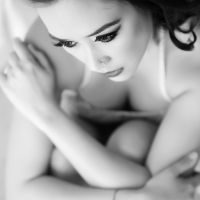 Michelle Ford
Michelle is a Southern California Portrait and Wedding Photographer. When she's not geeking out with a camera she's nerding out in her IT world. All other moments in the day are spent with her two wonderful children. See her work on
The COCO Gallery
check out her blog at
frexNgrin