Upon first glance at Tyler Stableford's work, you might confuse it for a documentary about farmers in the west. His work is nothing short of an amazing story told through photography.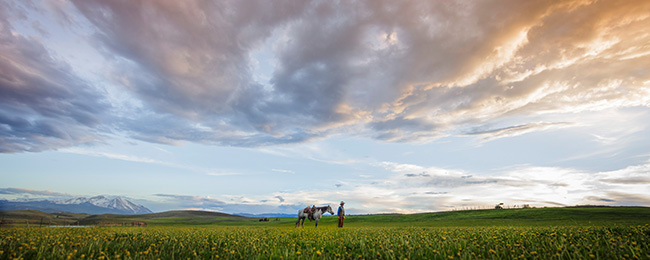 Tyler was kind enough to sit down and chat with us at SLR about his latest project, The Farmers, sponsored by Canon.
Tyler, what inspired you to start doing photography?
I first entered the world of storytelling as a journalist in college. I got my first SLR camera near the end of my college years. I was excited to capture some of the beautiful places I was seeing as a climber and outdoor lover. Over time, I have become more and more passionate about capturing the human experience, all with a sense of place.
What was the inspiration behind the Farmers series?
'The Farmers' series is a really personal project to me that took flight. Where I live in western Colorado, much of our town is surrounded by working ranches. I really wanted to spend time capturing the faces and stories behind these men and women. They are so deeply connected to their land, and the passion for ranching.
How did you start your project? Did you find any difficulties?
This past winter, I spent time crafting proposals to shoot a fine-art portrait series on food artisans: farmers, ranchers, beekeepers, distillers and such. I pitched the project to Canon, and over the course of several months, they committed to supporting my project.
One of the more difficult parts of the project was that many of the farmers and ranchers tend to shy away from the camera. They don't want their pictures taken! Some ranchers I would call six or seven times to try and arrange a 30 minute session. However, the process of photographing, and spending time with the farmers and ranchers really has been a highlight of my career.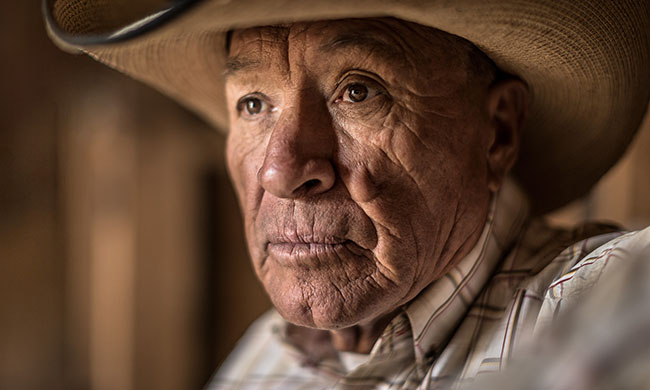 How did you find your 'models'?
One of the fun parts about this project is that I really didn't 'cast' any models. Virtually every shoot I gained through word of mouth or a local referral. I never did look at the farmers' snapshots before arriving, I just showed up. For so many of the commercial projects I do shoot, casting and talent selection plays a key role in the campaign. This project however, was refreshing in that I simply went out to the farms and ranches, and captured the most soul filled photos I could with the people that were there. I had very little concern for whether or not they were 'good-looking'.
Do you sketch out your shots beforehand or shoot from the hip?
I carry a lifetime of ideas with me to shoots! Inspiration is gleaned from work of other portrait shooters. Richard Avedon, Dorthea Lange, Herb Ritts and many current day photographers have been a huge inspiration on how I shoot.
For this project, my co-workers and I built mood boards of images that spoke to us, that we gathered from the web. Inevitably, we were drawn to the images that carried a deep sense of soulfulness.
Do you have a favorite image from the series, and why?
My favorite from the series is a portrait of a farmer named Leonard in Folsom, Louisiana. He is currently going blind and his eyes are askew. He is deeply spiritual and just a dear, dear man. I had just met him that morning. He was leaning on a shovel, and as we were talking, I asked if he would simply close his eyes and look down. I think we co-created something very beautiful and graceful that morning.
Where do you find your inspiration?
The inspiration for this particular project has really been, for me, an attempt to connect more deeply with my subjects. To really be a conduit for their very soul as it travels through the lens to the camera sensor and into the pigment ink dotted on the canvas paper. I have had so much joy sharing the love that is in their hearts — their spirits really shine in this exhibition.
Boy, where do I find inspiration otherwise? One of my biggest sources is looking at what today's top photographers and directors are creating. Really, at the heart of it, we are all crafting a sense of emotion — and sometimes there is a certain emotionality in the photographer's work that really strikes me. I immediately put some of their imagery in a folder on my computer labeled 'Inspiration.' Sooner or later, that style of photography makes its way into my own work.
What advice do you have for other photographers?
Hmm, that is a hard one — the older I get, the less advice I seem to have, as I realize that we all have our own paths to take. What works for me as an artist now probably wouldn't have worked for me 10 years ago. With that being said, one lasting truth I've found is that my work is always more  successful when I lead it with love. When I feel like I am working selflessly to capture the best image I can of my subject, and trying to represent them beautifully, those images are the most successful. As such, the suggestion I have is to strive to connect with your true heart to your subject. The work will shine.
This video was made in conjunction with Canon about the project:
To see Tyler's other work (it is pretty amazing), visit his website, here.
CREDITS : Photographs by Tyler Stableford are copyrighted and have been used with permission for SLR Lounge. Do not copy, modify or re-post this article or images without express permission from SLR Lounge and the artist.
Teagan Alex
Teagan Alex is an Event and Fine Art Photographer based in Salt Lake City Utah. She believes that all people are inherently beautiful, and loves to capture the details of the world around her. She received her BFA degree from UVU in photography and since has been published in books and magazines, multiple gallery shows, and won best in show for her work. Visit her website at
teaganalex.com
and connect with her via
Facebook
or
Instagram
.