I, like many of you, have been watching what Sony has been doing from afar. One of the cameras that has caught my attention, though many of you have written off, is the RX10. I have been given the opportunity to take the RX10 out for a review, and today I am here to share some of my initial thoughts on this supercharged bridge camera.
As with all of our initial thoughts posts, this is not meant to be a full review, just a collection of my initial impression having had the camera for a short period of time. A full, more complete review will follow within the next couple of weeks.
Why I Wanted to Review the RX10
I am sure some of you are interested in why I would even want to check out the Sony RX10. It is a single fixed lens camera, with a small 1 inch sensor. Surely, the Canon 6D or EOS-M are better in every respect? Right?
Well, as many of you know, In addition to my duties here at SLR Lounge, I also run a soccer blog covering men's and women's pro soccer in Portland. As much as I love the Canon 6D and EOS-M, lugging them (and the required lenses, and accessories) is quite annoying. This is where I felt like a camera like the Sony RX10 could come in handy.
I want something in a small all-in-one package that can take quality stills, as well as quality HD video. The key bit here being that I basically want to be able to grab my camera, my mic (for video), throw them in my bag and be good to go. The RX10 seems to, on paper at least, fill all of those needs. So, I requested a review unit to see if it stacks up.
My Initial Thoughts on the Sony RX10
Let me just say that I was impressed with this camera right out of the box. It is built very well, and while small, it still feels very solid in my hand (only one hand needed for this guy). It is not much bigger than the EOS-M with a lens on, and is much easier to handle (as well as much lighter).
Coming from Canon, I am still getting used to how Sony has everything laid out, both on the camera itself and in the menu. But for the most part it was pretty easy to figure out within the first several uses, though I fully admit that I am still no expert on using this camera.
I sort of jumped in head first with the RX10 too, having had it for only a day before taking it, and only it, to a NWSL soccer match between the Portland Thorns and Seattle Reign. This was a matchup of the top two teams and is a huge rivalry, so getting good images and video for my coverage was critical. I am happy to report that the camera performed wonderfully.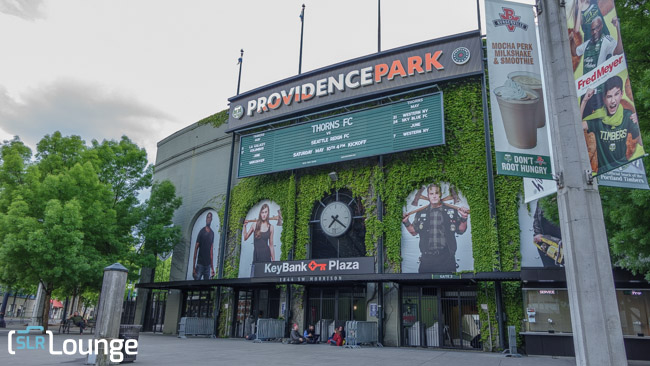 The constant F/2.8 24-200mm lens is great, and is a large reason why I wanted to give the camera a try for both photo and video. While this camera is obviously not meant for a professional sports photography environment, it performed better that I would have expected it to. The biggest problem I had was with the AF tracking and actually selecting what I wanted to focus on. But I fully admit this was probably more to do with my inexperience with the camera and less to do with the cameras abilities.
One of the biggest areas that I heard negative things about the RX10 was with the video AVCHD codec, so I was very interested in how that would perform when compared to footage I had captured with my 6D or EOS-M. I am happy to say that when uploaded to YouTube I couldn't really tell much of a difference in video quality, which is all I really care about because that is where all my videos go.
I actually shot my Impact Ready Cool 3-point Lighting kit initial thoughts video with the RX10. Overall I was really happy with the video from the RX10, though I admit there is definitely a difference in the "look" of the video between the 6D/EOS-M and the RX10.
I also really love that the RX10 comes with a built in ND filter. This is a really awesome feature that I wouldn't expect a camera like this to have, but is really helpful, especially when shooting video. Thanks to the ND Filter, I was able to shoot the lens at F/2.8 in the shade on a bright sunny afternoon. Very cool.
Initial Pros and Cons on the RX10
Pros
Very Convenient Size and Weight
24-200mm F/2.8  lens
ND Filter
Headphone Output and Quality Mic Input
Video Quality
Cons
Continuous AF, Subject Tracking (Though as I mentioned, this was likely more due to user than the camera)
Focus Peaking – It didn't seem to be the most accurate. Things I knew weren't in focus looked to be with the peaking turned on.
Menu System taking some getting used to coming from Canon and Nikon
Price, this is not your average bridge camera but the price puts it in competition with the likes of the 70D and D7100.
Conclusion
Overall, I have to say that I am really liking what I am able to do with the RX10 for both photos and video. I am interested to see what I am able to do with this once I have a better grip on using the camera. But, assuming that I am able to figure it all out to my satisfaction I think it is safe to say that this may be my next camera purchase.
You can get the RX10 over on B&H now for just under $1300 brand new. I have seen these for around $1000 used though too, so that may be a good option for those of you not wanting to spend $1300 on a glorified point-n-shoot.