Not long ago, one of the major criticisms of Sony's full frame mirrorless A7-series cameras was a lack of lenses. Since the system itself is only about 3 years old, Sony, and other third party lens-makers, haven't had as much time to design a lens arsenal as the more established DSLR systems from companies like Canon and Nikon. However, over the last year-plus, the full frame E-mount lens lineup has been maturing at a remarkable rate, and today Sony has added another piece of glass to its menagerie, the FE 50mm F2.8 Macro.
This lens is now the second macro lens available for the A7 series, and with a maximum magnification of 1:1, it is a true macro. It boasts some features common to other professional grade macro lenses, including a focus-range limiter, focus-hold button, and focus-mode switch, and Sony promises "outstanding image quality and bokeh" thanks to its 7 rounded aperture blade design. Although no sample images have been made available, given Sony's recent track record, I'm inclined to believe their assertion. The lens is also "dust and moisture resistant."
Being a macro lens, the standout line on the spec sheet is its minimum focus distance, at 6.3 inches (0.16m). 1:1 magnification is possible at this distance, and, at 50mm, the idea is that (when stopped down) users can capture more detail in the background of their images than with Sony's other macro lens, the FE 90mm F2.8 G OSS.
Physically, the new lens resembles the smaller, more compact, non-G/GM members of the Sony lens family. At only 236g, it's lighter than the FE 55mm F1.8, (281g), and is the exact same length, 71mm. Sony has accomplished this miniaturization by omitting image stabilization, ostensibly with the second generation A7, 5-axis IBIS-equipped, bodies in mind. In fact, the spec sheet lists "body-integrated" under image stabilization, so, if you're shooting with a first generation A7 body, you'll want to keep your tripod handy.
And, of course, (drumroll, please) the price: "about $500 US and $650 CA." Compared to some of the recent lens announcements coming from Sony, this lens is an absolute bargain. Even with all of its focus-hyphenated features, it comes in at the same price as Sony's kit lens, the plastic-fantastic FE 28-70mm F/3.5-5.6. The spec sheet does not specify whether this new 50mm is constructed of plastic or metal.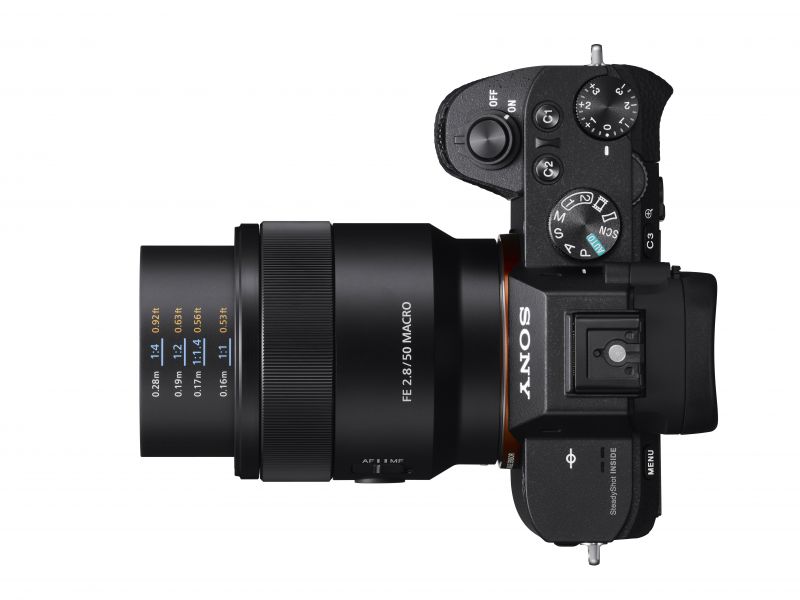 Comparable Lenses
Sony shooters now have two macro lens options, the other being the FE 90mm F2.8 G OSS. We don't yet know how the new 50mm performs in comparison, but the image quality of the 90mm is widely regarded as being optically superb. This DxOMark comparison with Canon's legendary EF 100mm F/2.8 Macro IS shows the Sony to be a standout, which, at $1100, it should be. Considering the disparate price tags, it seems that the new 50mm will be the budget-friendly option, perhaps with a compromise in image quality, though that remains to be seen.
In terms of 50mm(ish) lenses, Sony users now have a wealth of choices. As of only 6 months ago, the afore mentioned FE 55mm F1.8 was the only prime, full frame, normal-range lens available. Today, you could potentially opt for Sony's nifty 50mm F1.8, their pro-level 50mm F1.4, or the new Rokinon 50mm F/1.4. Sony has clearly heard last year's complaints of a lack of FE mount lenses, and responded.
The following is Sony's official press release announcing the new lens:
       Sony Releases Full-Frame FE 50mm F2.8 Macro Lens
A lightweight and compact standard 50mm F2.8 macro prime lens that offers versatile shooting experience
SAN DIEGO, Aug. 30, 2016 – Sony Electronics, a worldwide leader in digital imaging and the world's largest image sensor manufacturer, has today introduced a new full-frame lens for their E-mount camera system, the FE 50mm F2.8 Macro lens (model SEL50M28).
Ideal for everyday photography, this 50mm macro lens features an F2.8 maximum aperture that offers outstanding image quality and bokeh, while its 1:1 macro capability allows the photographer to get sharp close-up shots of their subject. Additionally, its comprehensive range of controls including focus-mode switch, focus-range limiter and focus-hold button ensure an effortless shooting experience for a wide range of users.
  The lens offers a 6.3 inch minimum focusing distance and a wider field of view for capturing more background, compared to longer focal-length macro lenses. Weighing in at a mere 8.4 oz., it's extremely lightweight and portable, making it easy to carry around.
The new FE 50mm F2.8 Macro lens features an ED (Extra-low Dispersion) glass to effectively compensate for axial chromatic aberration at close focus, allowing it to create consistently sharp and high quality images. The optical and mechanical construction of the lens has less glare and ghosting, even without a lens hood. The lens is also dust and moisture resistant.
Pricing and Availability
The new FE 50mm F2.8 Macro lens will be available in September for about $500 US and $650 CA, respectively. It will be sold at a variety of Sony authorized dealers throughout North America.
A variety of exclusive stories and exciting new content shot with the new lenses and other Sony α products can be found at www.alphauniverse.com , Sony's new community site built to educate, inspire and showcase all fans and customers of the Sony α brand.
Content is also available for viewing at the sony.com product page in the US and CA
What are your thoughts on this new lens announcement? If you're a Sony shooter, do you see a place for this lens in your bag? If you've refused to drink the Sony Kool-Aid, has their recent barrage of new lenses piqued your curiosity? Let us know in the comments below.
Bing Putney
Bing is a professional portrait and on-set still photographer who lives in Los Angeles, and frequently travels the world to explore new and interesting cultures and pastries. Website:
bingputneyphotography.com
Instagram:
@bingputney