The Sony A7rii was released over two years ago and promptly rewrote the rulebook on what could be expected from a mirrorless camera, and cameras in general. It was beyond what anyone had expected in the day, with more megapixels, more stabilizing power, and more tech than we'd previously seen in a tangible ILC. And now it's been superseded by the A7rIII.
Key Stats:
35mm Full-Frame 42.4 MP Back-Illuminated Exmor R™ CMOS Image Sensor with Evolved Image Processing
Continuous Shooting at up to 10 fps with either Silent Shooting or Mechanical Shutter and full Auto Focus/Auto Exposure tracking
399 phase-detection AF points covering 68% of image area, 425 contrast AF points and approximately 2 times more effective Eye AF
5-axis optical in-body image stabilization with a 5.5 step shutter speed advantage
High Resolution 4K Movie Shooting with full pixel readout and no pixel binning
Completely redesigned for professionals, including upgraded Auto Focus, Dual SD Card Slots, Extended Battery Life, SuperSpeed USB (USB 3.1 Gen 1) USB Type-C™ Terminal and more Compact, Lightweight body at only 23 oz.
Image Quality Focus
The A7rIII is a new mirrorless camera that builds on where the A7rII left off, and does so largely by borrowing some of the tech of the A9. The result is a camera that looks almost identical to the A7rII, but with totally revamped innards, and a few much welcomed additions, like dual SD card slots (UHS-II, UHS-1), a focus-point multi-selector (joystick), and though they initially said it couldn't be done, Sony has enabled the A7rIII to now use the same high-capacity battery found in the A9.
The A7rIII can also take the same battery grip as the A9, and the same 3.7 million dot OLED electronic viewfinder of the A9, and a rear LCD which can be used for focus as an AF touchpad.
While the sensor remains the same, Sony has been able to squeeze more out of it, and they have said that's because the processing and circuitry tech available 2 to 3 years ago didn't allow for anything more, but now the more powerful Bion Z X processor paired with the front-end LSI allows for much quicker data processing and transfer.
Paired with the newly designed shutter mechanism the A7rIII is capable of 10FPS across the range, and what that means is you can shoot 10FPS on essentially every setting and get the most out of it. That means you can shoot the highest fps with every AF setting in either mechanical or electronic / silent shutter mode. And you can do that for 87 compressed raws or 28 uncompressed. Singular uncompressed files are 14 bit with a whopping 15 stops dynamic range, and drop to 12 bit when shooting at the highest fps.
Beyond that there is the IBIS system of image stabilization which remains the same 5 axis but performs to a higher standard giving an extra stop of relief. This, combined with the new shutter mechanism helps the A7rIII actually realize the potential of the sensor by reducing shutter shock – a major problem in high res cameras. You just can't get the most out of a high res sensor without stability and reduction of shock.
New Tech
In the quest for better and true resolution the A7rIII has a new Multi-shot pixel-shift resolution mode, which shoots a full four images and will move the sensor at the micron level to ensure each pixel position gets the full red, blue, and green pixels. This eliminates de-moisaicing and realizes 170 million pixels of data to make a single 42 MP file. The benefits of this are much truer color, and overall a more 'true' resolution (keep in mind that the resolution your camera puts out isn't generally more than 1/4 of what's stated and the rest is interpolating etc.).
Then of course the video capabilities which will do full sensor 4K and '5k' in Super35 mode. Video also gets all the benefits of the updated AF system and the stabilizing system, and the A7rIII gets a Hybrid Log Gamma feature and SLog-3.
Then of course there's the multi-USB ports, including a microUSB and for the first time a USB 3.1 type-C port, both of which can be used simultaneously for different functions – such as tethering and powering at once.
We'll be hands on with the A7rIII in just a few hours and we'll be bringing you much more about the new items as tomorrow unfolds.
Cost: $3,199 – available November.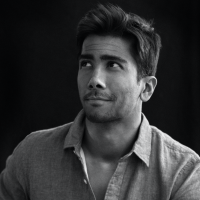 Kishore Sawh
A photographer and writer based in Miami, he can often be found at dog parks, and airports in London and Toronto. He is also a tremendous fan of flossing and the happiest guy around when the company's good.