I hesitate with ever calling a piece of machinery 'sexy,' though there are some I find distinctly so. The thing is those pieces tend to have character, and are tools that raise the senses, like a Jaguar E-type, or an F-14 Tomcat, or perhaps a classic Leica. Apple has tried to make computers and their components sexy, and to some degree has succeeded, but you didn't hear me say that.
A company called Sonder, however, has created a keyboard that's as about as an attractive a keyboard as I can ever recall seeing. Sonder's Bluetooth computer keyboard uses e-ink tech to label individual keys and offers customization for 50 of the buttons. You can program the keyboard keys to show a specific symbol, or even change the letter you want on that key, you know, should QWERTY just not do it for you, you rebel.
As creatives we use an array of applications that can become keyboard intensive. Obviously anything Adobe comes to mind. Post processing with shortcuts can save hours upon hours, but it can take hundreds of hours of usage to learn what keys do what. Some never learn, and even those that do can't always do it without looking, and having a little image on the key to help our peripheral vision detect the target we want can be immensely helpful.
The Sonder design is elegant and the company touts the ability to change all settings, images, emojis, and languages with the quick flip of just a few settings, and will change as you change applications. The keyboard is also lit for working in the dark, and seems to be Mac geared as you'll notice the 'command' and other buttons typically found on Apple keyboards.
I honestly wish I had something like this years ago to steepen my learning curve, and even now I find myself forgetting all but the utmost often shortcuts used, so I'd buy one now. Except I wouldn't, because you can't yet.
Supposedly, it will arrive with a cost of $299 but can be had for pre-order for $199 right now. That said, the Kickstarter campaign has even yet to launch, so you'll be waiting a while, but I hear good things come to those who wait. Or something better comes along.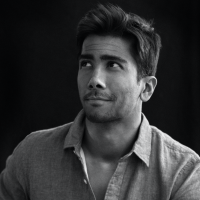 Kishore Sawh
A photographer and writer based in Miami, he can often be found at dog parks, and airports in London and Toronto. He is also a tremendous fan of flossing and the happiest guy around when the company's good.