It's amazing how fast our bodies begin to rebel in both form and function. When we're young, time seems to move as if being nudged by the gentlest summer breeze, and nothing we ate or did would really show, and the beauty of youth seemed to know no bounds. Then one day that changes. Time presses the fast forward button, and we wear everything we eat. A night of lost sleep wears itself under our eyes; alcohol and little water weathers our skin, and cheesecake seems to come in and never leave – a second on the lips, forever on the hips and all that…
While most retouching tutorials tend to focus on perfecting a youthful image, there's much less out there with a focus on dealing with the issues listed above. Retouching the mature features and skin of both men and women require a little different approach. You can't go for full on removal of lines and pores, so perfection isn't quite the aim – and that's a little harder to deal with. Subtlety is the name of the game, as it should always be really, but particularly in this case. In this tutorial, Aaron Nace will show you a simple approach to retouching a mature person's face, and gives pointers on what in particular to look out for.
Much of the focus of the tutorial is on lessening the intensity of the imperfections. The aim is not to make the face devoid of imperfection, but rather to temper it. So, Aaron shows you how to use the healing brush tool to paint over lines and wrinkles, and how to use layers and opacity to find just the right level of subtle.
He also goes over how to deal with shadows easily, and how to add color back into the skin and eyes, as they naturally desaturate over time. For those of you who are a little intimidated with frequency separation, this is a great method to try, and sure to come in handy for anyone.
As always, if you are a fan of Aaron's teachings (and who isn't?), be sure to check back here for updates, and follow along with Aaron on YouTube and Phlearn. You should also consider becoming quickly adept at Photoshop with the Phlearn Photoshop 101 & 201 sets as they are extremely comprehensive, and will have you quickly doing things with Photoshop you may have otherwise thought too complex, or didn't even know you could do.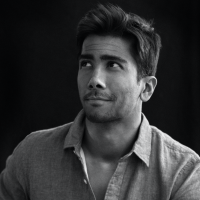 Kishore Sawh
A photographer and writer based in Miami, he can often be found at dog parks, and airports in London and Toronto. He is also a tremendous fan of flossing and the happiest guy around when the company's good.