It's been a hell of a year for Adobe with their new formula for snagging (and keeping) users based on their subscription model, and in doing so they have the ability to continuously update the software, and deliver the latest and greatest directly to end users while they work. This is something they actually do, as anyone with Creative Cloud knows.
June 18th  is a date Adobe promised to uncloak "the next evolution of Creative Cloud," and while we have yet to arrive at that calendar box, Adobe has begun to share some of what we can expect. One of the features to be added I'm quite excited about, and I'm sure is one other photographers and graphic designers alike, will welcome with all the fervor of a lab whose owners have just come home. It's called "Focus Mask," and it looks brilliant.
It seems a natural progression for masking, and intuitive. Essentially, according to Senior Photoshop Product Manager, Zorana Gee, who narrates the demonstration, this will allow a user to,
…make an automatic selection based off of pixels that are in focus versus out of focus.
This makes perfect sense as an approach seeing as we tend to often isolate our subject matter via defocus control, naturally then lending to treating the areas in and out of focus differently in post. If you've ever tried to mask something in Photoshop, especially something with many fine edges, you know it can be a time swallowing endeavor to get right, and even with a pen tablet. From Gee's demonstration is seems to be highly effective, and rather simple to use.
Some of the brushes in the new selection settings allow for adding to the mask, as well as removing it, making it very versatile, accurate, and likely better for working in steps. She mentions it works very well on hard edges and then shows just how efficient it is at refining the soft edges.
Thoughts
The applications for this are far as they are wide. Designers will surely rejoice, and photographer also. It will more easily allow for anything from dropping in a different background, like a sky, to simply changing the tones and brightness of each part without affecting the other.
I'm hoping this isn't Photoshop's 'bait trailer,' where they give away the best of the show in the trailer, because if this is not that, then I suspect the 18th will be quite revelatory. I wait now in keen anticipation.
Source: Adobe Photoshop YouTube Channel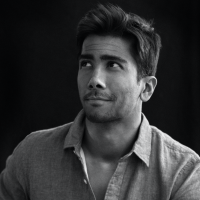 Kishore Sawh
A photographer and writer based in Miami, he can often be found at dog parks, and airports in London and Toronto. He is also a tremendous fan of flossing and the happiest guy around when the company's good.