Snapchat, the self-destructing picture messenger app, seems to be heading towards monetization according to a recent report on TechCrunch. That report also talks about Snapchat in the middle of raising more funding in the range of 100 million with a valuation as high as 1 billion.
Snapchat is known for its "self-destructing" picture messaging and is mostly popular with the under-25 crowd. It received its claim to fame when it was discovered that teens were using the service to send nude or sexually explicit images to each other thinking that it was safe because the images "self-destructed". Parents everywhere spoke out about the app, but that talk has mostly died down in recent months.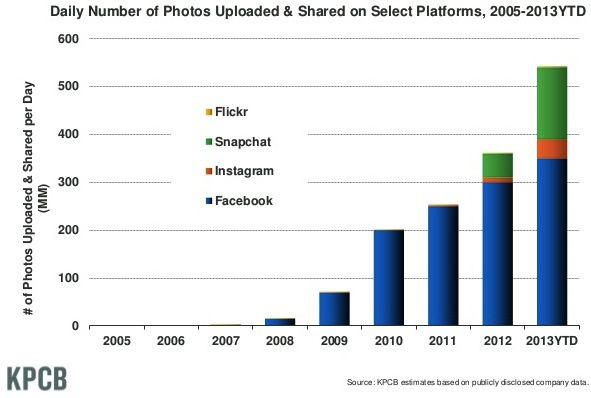 The crazy thing to me is that according to the graph above Snapchat is out performing both facebook and instagram in the amount of photos uploaded and shared in a day(as far as year to year market share improvement goes). That makes the 1 billion valuation a little easier to swallow for me, but I am still highly skeptical that Snapchat is worth anywhere near that.
For me monetization is imperative for Snapchat to survive, but any form of forced payment and or ads is going to hurt their usage numbers drastically. These apps get tons of use because they are free, once they start to realize they should be making money off it and start to monetize people get turned off and start to leave. Snapchat needs to be very careful about how they monetize, I would suggest an optional "upgrades" type service where people can still use Snapchat in its current form for free, but then they add extra upgrades that can be purchased (Maybe longer self-destruct timers, or scheduled messages).
What are your thoughts? Is that 1 billion valuation nuts? Let us know in the comments below. 
[via TechCrunch]