Our "SLR Lounge Awards Artist Feature" articles highlight SLR Lounge Awards winners, some of the very best wedding photographers around the globe. This article features Scott Josuweit (SMJ Photography, Pennsylvania, USA); Scott is well known for his wedding photojournalism, and the memorable moments he captures for his clients.
Scott has won multiple SLR Lounge wedding photography awards, including two Apex Awards for wedding photojournalism (December, 2017 and July, 2018). SLR Lounge's curators select the Apex Awards from the top 1 percent of submissions.
Read on as Scott shares his best practices for "preparing clients for memorable moments."
Scott, thank you for sharing how you prepare your clients for the memorable moments you capture for them. What do you love best about being a wedding photographer?
Well, I really enjoy the fact that every wedding is totally unique in its own way. Heck, every day is unique as a wedding photographer and every client has slightly different needs and expectations. Finally, while it can be difficult to manage all of this, it's so rewarding in the end!
What's your first tip for how to properly prepare clients so that you can capture natural, memorable moments?
First, I talk about it! During pre-wedding meetings with my clients, I stress the importance of 'being present.' Moreover, I remind them that their wedding day will fly by. I remind them to not stress over the things that are out of our control. This usually helps to keep them more at ease on the wedding day, which provides greater potential for meaningful moments.
After preparing your couples in advance, how do you make certain they stay (for lack of a better term) "calm and collected" on their wedding day?
When I arrive on the wedding day, I make it a priority to introduce myself to everyone in the room. Next, I tell them to literally ignore us. Most importantly, I stress the importance of truly enjoying the day, so moments naturally occur and so that we can capture them authentically. My second photographer will take care of the details like fixing the dress, rounding up the family for family portraits, etc. This allows everyone in the wedding party to relax. As well, this tends to lighten the mood a bit so we can get in close and capture the most important moments throughout the day.
Awesome! What's your third tip?
My third tip is to 'show it.' Basically, if you want to have clients who want a 'wedding photojournalistic approach,' you have to show those photographs! I've added more moments to my website, and I try to share more moments than anything else on my social media accounts. In fact, I've noticed my clients interacting more so (sharing and commenting) on photographs that 'show the moments.' In short, show what you want to photograph to your future clients. It makes my first two tips really easy to do as well!
And you have one more tip for us as well?
Absolutely! It's really important to be vulnerable. So, what do I mean by that? If your clients can feel that you're emotionally invested in their wedding, they're more likely to be vulnerable  themselves. Undoubtedly, that leads to them being more open with their feelings in front of the camera.

Now, I'll openly admit that I've shed a tear or two at weddings! Why? Because I could really feel the connection between the couple. In fact, when I meet with prospective couples, I often get choked up talking about the photographs they are looking at. I can remember exactly how I felt in those moments, and how important those photographs are to my couples. Overall, I really value authenticity and want that to come across to my clients. I want them to be their most authentic selves.
You can check out more of Scott's work on his website. Also, give him a like on Facebook and a follow on Instagram as well!
Check out the latest SLR Lounge Award Winners here. Don't forget to submit by the September 30 deadline to be considered for SLR Lounge's September 2018 awards competition. Finally, remember that anyone can sign up for an SLR Lounge account for free and submit, but Premium Members are able to submit up to three photographs each month!
All photographs are copyrighted by Scott Josuweit of SMJ Photography and have been used with permission for SLR Lounge. Do not copy, modify, or re-post this article or the included photographs without express permission from SLR Lounge and the artist.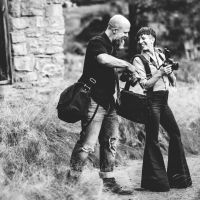 Amii & Andy Kauth
Amii & Andy are a wife and husband team of rad portrait and wedding photographers (Sunshine & Reign Photography) who absolutely love life and are generally just stoked! Yeah! When they aren't photographing or writing and teaching about photography, you'll find them off on a seriously legit adventure with their little ones, lifting weights in their garage, training jiu-jitsu, refining their archery skills, or surfing every chance they get. And on the rare chance they escape off on a "date night"? Yep! They'll find a wedding to crash (true fact). Website:
Sunshine & Reign Photography
Instagram:
@sunshineandreign