Smart objects in Photoshop are all blessing, no curse. Well, unless for some reason they are removed in which case you'll be missing them grossly. They can also be a bit unnerving for many Photoshop users, but they needn't be, and in this episode of Phlearn, Aaron Nace does a good job holding your hand and walking you through the applications and usage of smart objects, smart filters, and smart linked objects.
Why would you want to use a smart object? The reasons, as you'll see are vast, but it generally comes down to flexibility. Smart objects link back to a source file, so no matter what you do to the image, from scaling to filter etc, it will retain its quality. If you chose not to do this, you would lose quality with each process.
The beauty, also, is that it's literally just a click to turn an object into a smart object – right click on the layer, and choose 'Covert to Smart Object.'
Once you've turned your layer into a smart object, any filters you apply will be equally 'smart.' They will cascade underneath the chosen layer, and each of them will be entirely editable. You can turn the effects on and off, and can even apply layer masks, etc.
The idea of the linked object is simple, and the purpose and usefulness of it is too – it allows you to update multiple images at once, in multiple documents. Essentially, any change made to the original file gets immediately applied to all linked documents.
As always, if you are a fan of Aaron's teachings (and who isn't?), be sure to check back here for updates, and follow along with Aaron on YouTube and Phlearn. You should also consider becoming quickly adept at Photoshop with the Phlearn Photoshop 101 & 201 sets as they are extremely comprehensive, and will have you quickly doing things with Photoshop you may have otherwise thought too complex, or didn't even know you could do.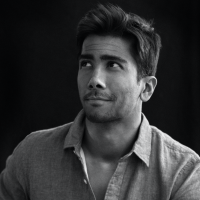 Kishore Sawh
A photographer and writer based in Miami, he can often be found at dog parks, and airports in London and Toronto. He is also a tremendous fan of flossing and the happiest guy around when the company's good.