In the off chance you don't have a television, or friends, you may not be aware that fame isn't quite what it was. It's better, and worse. Real fame used to be the reserve of A-listed celebrities from film, music, literature, sports, and to a very select few others at the utter peak of their craft, be it photography, fashion etc. It's a different game now. As the internet has effectively brought the factors of production and distribution out of the liver spotted hands of the old rich, and into the hands of social outcasts the world over, so with it has come a new breed of famous.
We make everyone famous, even if just a little, and just for a minute. Chefs are now public superstars with groupies, and anyone with good looks and a camera phone has some level of notoriety. Photographers have capitalized on this too, but I fear, for many, it's gone to their heads. I wrote a while back about the lack of giving back for a greater good and in appreciation, and that was aimed at photographers who don't. When did the 'famous' become so ungrateful for what we've all done for them? And we do a lot; praise them, build their brands, defend them, and hell, we create them.
Much of what I was referring to, was time. Give of your time to speak with, and help others. So many photographers seem unwilling to do this and share the wealth of information. Hell, we'll even pay for it, but do it well; make it introspective and worthwhile. Do it, like Erik Almas.
Erik
Erik's been steadily making a bigger and better name for himself due to the quality of his product, and the rate at which he produces it. If you've never heard of him before, you'd be forgiven, and he probably won't mind, but you were bound to. His list of clients and campaigns reads as something that would send Don Draper into a downward spiral of Old Fashioneds; Absolut, Microsoft, Nike, American Airlines, Pfizer, Ritz Carlton, Toyota, and Credit Suisse to name a few.
The Norwegian expat who's lived stateside for the past two decades, is known for his vision, execution of said vision, and deftness with content creation. He credits his origin for his romantic and surrealistic style, and doesn't shy away from crediting just about everyone else he has come across for shaping his success. Exclusively for SLR Lounge, we sat down with Erik in London to have an inspiring, reflective, insightful interview.
[REWIND: What's in A Commercial Photographer's Bag? Find Out From Erik Almas]
Erik speaks with us about the road he's taken to get where he is, and it's particularly soulful and insightful. There is little bravado and much humility and gratitude, and what Erik speaks of are really the things you want to hear, and should seek out. Some of it may take time to see the value, but it's there. Execution of the technical can be learned on his acclaimed DVD, and that of others, but insight like this is not common to come by. Watch it. It's just one way he's being grateful.
You can find a lot more of Erik's work on our site, and of course his own site, and Facebook page. And more about his DVD, On Aspects of Image Making in the SLR Lounge store.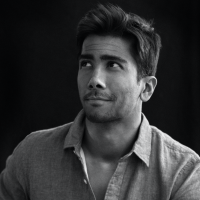 Kishore Sawh
A photographer and writer based in Miami, he can often be found at dog parks, and airports in London and Toronto. He is also a tremendous fan of flossing and the happiest guy around when the company's good.