Our "SLR Lounge Awards Artist Feature" articles highlight SLR Lounge Awards winners, some of the very best wedding photographers around the globe. Read on to gain some insight into how SLR Lounge's award winners started their business, grew their portfolio, and achieved excellence in the photography industry.
This article features Megan Allen of Studio 22 Photography. Megan is a multiple platform, award-winning photographer based out of Ohio. She entered her Apex Award-winning photograph into the wedding photojournalism category in December. The Apex Award is a level reserved for those whose photographs are selected by SLR Lounge's curators from the top 1 percent of submissions. Here's a look at Megan's photography world!
How Would You Define Your Approach to Photography?
My approach is simple: Have a ridiculous amount of fun, and capture the moments as they come! I love my couples because they don't take themselves too seriously. They appreciate art and the process involved in creating great photographs. I try to infuse technical ability with pushing the limits of what is typically expect in wedding photography, to inspire and evoke emotions.
How Have You Established Your Style of Photography?
There has been a lot of trial and error involved, and it's still in process. It's taken me several years to find what resonates the most, with the way I want to create and with how my clients connect to their photographs. Telling stories with rich tones, vibrant colors, and dynamic lighting has always inspired me, and I have found myself extremely inspired by photographers like Erika & Lanny Mann, Cliff Mautner, Tyler Wirken, and Candice C. Cusic. Basically, I wanted to find a way to infuse those very different styles into a unique style that could become my own. And I feel like I've found something that seems to work for me.
At the Beginning of Your Career, How Did You Get Your Business Off the Ground?
I chased leads, found opportunities, and asked people to get back into their wedding attire to help me build my portfolio. I found ways to get into locations that I wanted to work with more, and I asked for opportunities. I think that a lot of the time we don't see the true grinding that goes on behind the scenes, and we see think that some of the people we look up to as having magically appeared at that level. It's a journey we're all on, and I think we progress as much as we're willing to push ourselves. We have to be willing to put in the sweat and work to see the progress.
What's Your Go-To Lens for a Typical Wedding Day?
Because I'm a gear nerd, if I had to, I'd cut down to two lenses. They would be my 35mm and 105mm. I love the look of both, and, for me, there's no way I could shoot a wedding with just one or the other. That said, for the most part, I can photograph almost the entire day with a 35mm . . . but I love the 105mm too much not to keep it around!
What Companies/Gear Help You in the Creation of Your Photographs?
When it comes to companies that make my world go round, there are so many. Interfit Photographic gives my portraits life, and their strobes are killer on location when speed lights just won't suffice. MagMod is absolutely clutch for the majority of my day, as I love creatively lighting every possible aspect of a wedding day, giving fresh looks to what could be mundane (without a little "kick in the pants"). Fundy Software is absolutely a life saver for everything on the back end for me, from creating my clients' wedding albums to designing wall art. And their online album proofing makes life so easy when it comes to perfecting the albums I've designed with their software. Finally, Holdfast is an unbelievable company that makes incredible products, from straps that allow me to carry dual cameras without pain to their incredible bags that have saved my life so many times when packing gear for an adventure.
What Advice Do You Have For Photographers Searching For Ways to Keep Progressing in Their Art?
I think seeking inspiration outside of the wedding industry is huge for me. I've been following Kirsten Lewis' work to help inform my photojournalism and to help me improve in the area of catching those "little moments." I love the intimate photographs that Pete Souza creates. And I'm utterly obsessed with Joey L. and Von Wong, for the conceptualization of their ideas from start to finish. Finding inspiration outside of wedding photography gives me new concepts to try. Overall, I really enjoy working with new gear, testing new concepts, and trying to learn new ways to grow from other photographers. I think we can all grow through one another, and it's inspiring to find ways to be efficient and hear what's working for others.
You can see more of Megan's work on her website. And be sure to give her a like/follow on Facebook/Instagram as well!
Check out the rest of the December SLR Lounge award winners here. Don't forget to submit by the February 28 deadline to be considered for SLR Lounge's February 2018 awards competition. And, finally, remember that anyone can sign up for an SLR Lounge account for free and submit, but Premium Members are able to submit up to 3 photographs each month!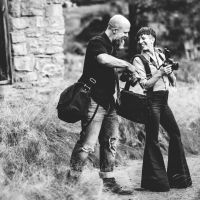 Amii & Andy Kauth
Amii & Andy are a wife and husband team of rad portrait and wedding photographers (Sunshine & Reign Photography) who absolutely love life and are generally just stoked! Yeah! When they aren't photographing or writing and teaching about photography, you'll find them off on a seriously legit adventure with their little ones, lifting weights in their garage, training jiu-jitsu, refining their archery skills, or surfing every chance they get. And on the rare chance they escape off on a "date night"? Yep! They'll find a wedding to crash (true fact). Website:
Sunshine & Reign Photography
Instagram:
@sunshineandreign