Our "SLR Lounge Awards Artist Feature" articles highlight SLR Lounge Awards winners, some of the very best wedding photographers around the globe. Read on to gain some insight into how SLR Lounge's award winners started their businesses, grew their portfolios, and achieved excellence in the photography industry.
This article features Leaha Bourgeois of Popography (New Jersey, USA). Leaha entered her Apex Award-winning photograph into the wedding photojournalism category back in December. The Apex Award is a level reserved for those whose photographs are selected by SLR Lounge's curators from the top 1 percent of submissions. Here's a glimpse into how Leaha rocks the world of wedding photography!
How Would You Sum Up Your Approach to Wedding Photography?
I've always said that my photographs are a direct reflection of the relationships I have with my clients. Investing in our clients' lives on a personal level allows me to gain their trust and tell a more authentic story.
Thinking Back to the Beginning of Your Career … What Most Helped You to Get Your Business Started?
First, I had my camera with me at all times while I spent the better part of two years teaching myself my camera, off camera flash, and posing. I also dabbled in every type of photography. And second, I relied heavily on my people skills and offered sessions to friends, family, or folks I met along the way. My advice is to get out of your core circle and meet new faces, have great conversations, and don't be afraid to tell people what you can do for them. Once they give you that opportunity? Treat them like gold and give them something to rave about to everyone they know.
Relatedly, What Type of Marketing Have You Found to Be Most Successful?
Consistency! I have never paid for marketing or ads in my career, but I am consistent with blogging, social media posts, and following up with my clients. I am most consistent with my blog, as it is the first place people see a session previewed. I make sure my blogs are a clear representation of who I am and my work.

As well, I always make it a point to check in with my clients often, to see how they are and to tell them about the different ways I can still serve them through photography past their wedding experience. In fact, some of my referrals are from brides I worked with over four years ago. It's important to me to keep up with their lives and stay invested. I truly care about them!

So, I'll add caring to consistency . . . it's a real bonus that my clients still talk about me with such high praise even years later.
How are You Constantly Evolving, In Both Your Style and with the Quality of Your Photographs?
After attending a Foundation Workshop in 2017, I have really been honing my documentary photography skills. I try to have my Fujifilm X-T2 with me as much as possible and am always photographing, whether it's paid, unpaid, or street photography. I also recently took a half-day workshop with the amazing Susana Barbera, and she blew my mind! She helped me find my truth and gave me the extra push I needed to start a personal project documenting the elderly. To me, evolving means getting out there and failing. If you aren't failing, you're probably not growing.
Finally, Let's Hit Up a "Fun Fact"! What Are You Currently Reading That You would Recommend?
I'm definitely an audiobook-kind-of-girl, and these are some of my all time faves that everyone should listen to at least once a year: The 5 Second Rule by Mel Robbins; 7L: The Seven Levels of Communication by Michael J. Maher; The Subtle Art of Not Giving a F*ck by Mark Manson; All Marketers are Liars by Seth Godin; and anything written Brené Brown.
You can see more of Leaha's work on her website. And be sure to give her a like/follow on Facebook/Instagram as well!
Check out the latest SLR Lounge Award Winners here. Don't forget to submit by the April 30 deadline to be considered for SLR Lounge's April 2018 awards competition. And, finally, remember that anyone can sign up for an SLR Lounge account for free and submit, but Premium Members are able to submit up to 3 photographs each month!
All photographs are copyrighted by Leaha Bourgeois of Popography and have been used with permission for SLR Lounge. Do not copy, modify, or re-post this article or the included photographs without express permission from SLR Lounge and the artist.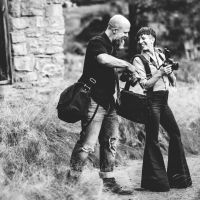 Amii & Andy Kauth
Amii & Andy are a wife and husband team of rad portrait and wedding photographers (Sunshine & Reign Photography) who absolutely love life and are generally just stoked! Yeah! When they aren't photographing or writing and teaching about photography, you'll find them off on a seriously legit adventure with their little ones, lifting weights in their garage, training jiu-jitsu, refining their archery skills, or surfing every chance they get. And on the rare chance they escape off on a "date night"? Yep! They'll find a wedding to crash (true fact). Website:
Sunshine & Reign Photography
Instagram:
@sunshineandreign