We're excited to be bringing you another artist feature from the winners of the SLR Lounge Awards! These articles highlight some of the very best wedding photographers around the globe and are meant to give the photography community insight into how SLR Lounge's award winners started their business, grew their portfolio, and achieved excellence in the photography industry.
This time we're featuring Petrica and Cristina of FixFoto, a team of multiple award-winning wedding photographers based out of Bucharest, Romania. They entered their award-winning photograph into the wedding photojournalism category in October and earned an Apex Award, a level reserved for those whose photographs are hand-picked by SLR Lounge's curators from the top 1% of submissions. Here's a look into how FixFoto has been rocking it out for nearly ten years …
How Did You Establish and Define Your Style?
Our approach to wedding photography is documentary in style. We focus on the special moments that happen during the day, without any kind of intervention. We just follow, observe, and capture. Before starting in this adventure as wedding photographers, we worked as photojournalists for about 13 years so our style was really established before we even started. We took the best aspects from our work as photojournalists and put that into our wedding photography.
Who Did You Look to for Inspiration When You First Started in the Wedding Photography Industry?
So, long story short? We actually started because of the Ben and Erin Chrisman. We were blown away by the photographs they created, and in our first couple of years we really tried to emulate them. Of course, we eventually realized that what we needed to focus on was how we take photographs, all while loving what the Chrismans do. But for sure they are our inspiration and Erin is like a goddess to us!
What Helped You to Get Your Business up and Running When You First Started out, and Do You Have a Preference When It Comes to Marketing Your Business?
The biggest thing was that, right from the start, we tried to give to our couples a customized experience. We've have always strived to listen to our couples' stories and tried to put those stories into the photographs that we make for them. As far as marketing? Here in Romania the best marketing is by word of mouth. If you deliver awesome photographs, people will recommend you. We also use Facebook more that any other social channel. And our main tip for Facebook marketing is to publish photographs that represent who you are, ones that you love and not just ones that will get you many likes.
How Are You Constantly Evolving, Pushing Forward Your Style and Quality?
Our style for learning is to actually learn and then try to forget … in order to learn again. And we aren't afraid of new things. We found that the only way to move forward, to evolve and avoid getting stuck, is to go out there and be wrong. It sounds weird right? But if you are always right, and if you never make any mistake when it comes to photography, then you are in the safe zone. You are doing the things that you know will result in a good photograph, of course. But we see that this is just being in the comfort zone, which for us is really a step backwards.
You can see more of FixFoto's work on their website; check them out on Facebook and Instagram as well! You can view the latest SLR Lounge Award Winners here. And don't forget to submit before the November 30 deadline to be considered for SLR Lounge's November 2017 awards competition. Anyone can sign up for an SLR Lounge account for free and submit, but Premium Members are able to submit up to 3 photographs each month!
All photographs are copyrighted by FixFoto and have been used with permission for SLR Lounge. Do not copy, modify, or re-post this article or the included photographs without express permission from SLR Lounge and the artist.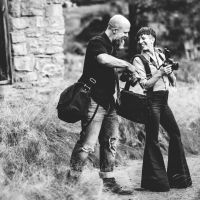 Amii & Andy Kauth
Amii & Andy are a wife and husband team of rad portrait and wedding photographers (Sunshine & Reign Photography) who absolutely love life and are generally just stoked! Yeah! When they aren't photographing or writing and teaching about photography, you'll find them off on a seriously legit adventure with their little ones, lifting weights in their garage, training jiu-jitsu, refining their archery skills, or surfing every chance they get. And on the rare chance they escape off on a "date night"? Yep! They'll find a wedding to crash (true fact). Website:
Sunshine & Reign Photography
Instagram:
@sunshineandreign