"SLR Lounge Awards Artist Feature" articles highlight SLR Lounge Awards winners, some of the very best wedding photographers around the globe. They are meant to give the photography community insight into how SLR Lounge's award winners started their business, grew their portfolio, and achieved excellence in the photography industry.
This article features Aaron Storry of Aarron Storry Photography. Aaron is a multiple award-winning wedding photographer based out of Northamptonshire, UK. He entered his award-winning photograph into the wedding photojournalism category in November and earned an Apex Award. The Apex Award is a level reserved for those whose photographs are selected by SLR Lounge's curators from the top 1 percent of submissions. Here's a look into Aaron's world of wedding photography!
How would you define your vision or approach to your photography?
First and foremost, I see myself as a photojournalist. My creative vision for a wedding day is documentary in style, capturing natural moments and emotions between people (over and above material objects). I focus my energy entirely on the individuals that attend a wedding and their relationships to one another. I suppose, at the heart of it, I'm a people watcher. The act of observing and documenting is at the core of what I do.
At the beginning of your career, what is the single biggest thing you did to help you get your business off the ground?
Be yourself. For a short while at the very start of things, I attempted to duplicate the work of others, but I very quickly learned to define my own voice … and that's when I started to fly. Once I found my own way of doing things, I started to push my wedding photography in my own direction. By exploring my interests, I found myself taking turns in all sorts of unusual and unexpected directions. I'm really enjoying my creative journey through life. It's exciting!
If you had to select only one lens to shoot with, what would it be and why?
It's an easy choice; 35mm. I can pretty much get though an entire wedding using a 35mm, and it's my lens of choice for everything (from weddings to photographing my kids playing in the garden). I've read heaps about a 50mm being a solid choice for journalism, but I've always felt that it's just a little too close. And 35mm is ideal for how I see (when you take the peripheral into consideration). I love the look of a crisp image from a 35mm lens shot open.
How are you constantly evolving and pushing forward your style and quality?
I'm currently studying for a Master of Photojournalism and Documentary Photography at the University of the Arts, London. It's a life long ambition that I started late last year. In addition to shooting weddings and studying, I'm also filming (and trying to edit) a documentary on the refugee crisis, which has taken me to camps across Europe. I carry many personal projects too, some of which have complimented my master's degree pursuit. I hardly go a week without using my cameras for some purpose.
You can see more of Aaron's work on his website. And give him a like/follow on Facebook/Instagram as well!
Check out the latest SLR Lounge Award Winners here. Don't forget to submit by the January 31 deadline to be considered for SLR Lounge's January 2018 awards competition. Finally, remember that anyone can sign up for an SLR Lounge account for free and submit, but Premium Members are able to submit up to 3 photographs each month!
All photographs are copyrighted by Aaron Storry of Aaron Storry Photography and have been used with permission for SLR Lounge. Do not copy, modify, or re-post this article or the included photographs without express permission from SLR Lounge and the artist.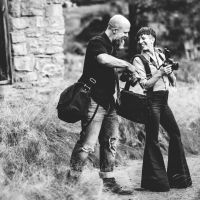 Amii & Andy Kauth
Amii & Andy are a wife and husband team of rad portrait and wedding photographers (Sunshine & Reign Photography) who absolutely love life and are generally just stoked! Yeah! When they aren't photographing or writing and teaching about photography, you'll find them off on a seriously legit adventure with their little ones, lifting weights in their garage, training jiu-jitsu, refining their archery skills, or surfing every chance they get. And on the rare chance they escape off on a "date night"? Yep! They'll find a wedding to crash (true fact). Website:
Sunshine & Reign Photography
Instagram:
@sunshineandreign