Looking for a streamlined process to implement in your photography business to get clients their images and market your work simultaneously? We have curated a 4-step plan for wedding image delivery that can easily be manipulated and catered to your specific business.
Join Premium
Here, at the Lin & Jirsa studio, we have a straightforward system in place for delivering final images to our clients: after the images have gone through post-production, we upload them to a cloud-based service, curate a blog post comprised of teasers narrating their wedding day, create a slideshow using Animoto and upload it to YouTube, and finally, compose an email to the clients and vendors involved filled with social media links and images to share.
Cloud-Based Hosting Services
Among the plethora of cloud-based hosting sites available online, there a select few that provide the storage, organization, aesthetic, and ease of use that we demand for our clients. An easy to follow site structure factors immensely in determining whether or not a specific cloud-based service makes for the right host.
Select a hosting site based on your own storage needs, desired client experience, and overall management. These are just a few options for cloud-based hosting sites that have been featured as the best on the web, feel free to add your choices in the comments below!
Creating a Blog Post
Teasing the clients with stand-out imagery from their wedding day is not only the perfect way to exceed their expectations for what's to come but will also serve as your strongest marketing tool. Select images that narrate their wedding day from start to finish, being sure not to leave out photos that provide emotional value. These are the first images the couple will see of their wedding day and therefore are worth spending the time to deliver quality work. Strongly keyworded image-titles and blog-content text are primarily how you will rise in the SEO ranks, and is the simplest way to understand how your blog can serve as part of your marketing strategy.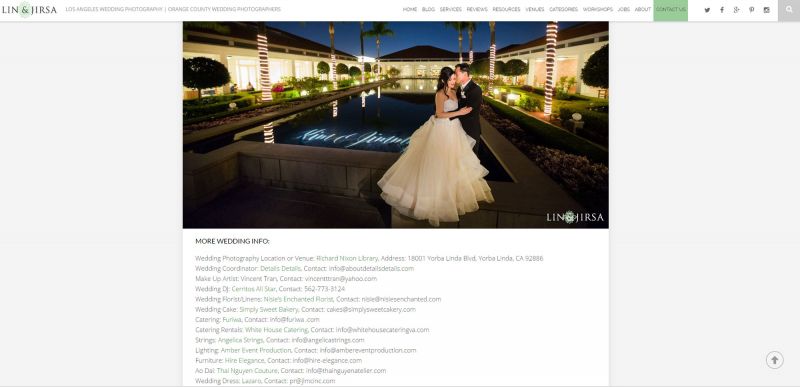 On every image posted on the Lin & Jirsa Blog site, you will see a scroll-over option to 'pin' said image to Pinterest, as this is our secondary marketing tactic, garnering the interest of future and present clients alike.
This post not only serves as a teaser for clients but also for the incredible vendors that helped make this wedding possible. Including vendors in your blog posts increases the likelihood of it being shared on their social media platforms, working as yet another marketing tool.
Making a Wedding Slideshow
This is a tip that will truly differentiate you from the rest, and showcase your work with the use of multimedia. We use Animoto due to its easy to use site structure that helps us create effortless slideshows with a few simple clicks.
By simply taking the selection of images you made for your blog post and dropping these images into Animoto, you can create a video slideshow that has the option of being uploaded to YouTube – the easiest way to share multimedia content. Giving the client and vendors multiple options and links to share will help to expand your social networks, and gain an active social media presence.
Canned Email Templates for Clients & Vendors
Once all of the links have been created, all that's left to do is share away! We create a canned email template for clients and vendors, respectively, within which will be included all related social media links. We've found that this is the simplest way to share the love, and the most direct.
Tip: Add in a couple of watermarked images for vendors to share on their personal social media networks. This brings traffic back to your site & social media networks and gives vendors a reason to rave about you in the meantime.
Discount
As Animoto is a service we choose to incorporate and one with which we've enjoyed much time saving and success, we've worked with them to secure a discount on Animoto Professional for the SLR Lounge community. To access, please click here.
Join Premium
For more photography business tips & tricks, be sure to check out Wedding Workshop Part 1 | Communication, Planning, and Happy Clients where you'll gain access to exclusive communication tactics, email templates, and so much more! This workshop is just one of many comprehensive education tools included in the SLR Lounge Premium Subscription membership.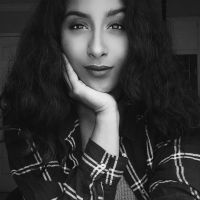 Shivani Reddy
Shivani wants to live in a world where laughter is the cure to pretty much everything. Since she can't claim "Serial Bingewatcher" as an occupation, she'll settle for wedding/portrait photographer at Lin and Jirsa & marketing coordinator here at SLR Lounge. For those rare moments when you won't find a camera in her hand, she will be dancing, eating a donut, or most likely watching Seinfeld. Follow her on Instagram:
@shivalry_inc