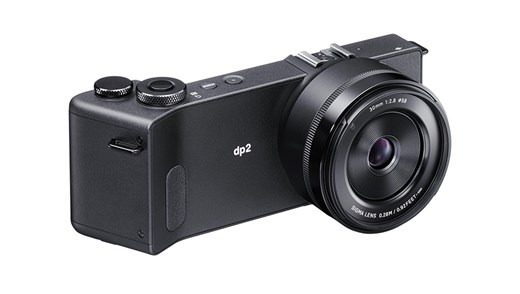 Although Sigma is best known for its lenses, the Japanese company also runs a line of DSLR and compact cameras. All of Sigma's cameras feature the unique Foveon sensor that contains of 3 layers of photodiodes and captures full color RGB information.
[RELATED: Check out the Sigma dp Quattro]

The newest member of Sigma's family of compact cameras is the DP Quattro. The 3 Quattro models not only feature a new and rather unique body design, but also a newly developed Foveon sensor, the Quattro, and image processing engine, the TRUE III.


[Rewind: Sigma 35mm DG HSM Lens Review – Still Amazing A Year Later]


Previous Foveon sensors divided the photo sites equally between the 3 layers, the new Quattro features 20MP in the top layer and 4.9MP in the subsequent layers. This should compromise the color resolution slightly, but Sigma claims the reason for this development is that it will considerably speed up image processing and writing times. Writing speed is indeed one of the Achilles heels of earlier Sigma cameras.
The body design is also something never seen before and, although it looks a bit odd at first, I can imagine the ergonomics might just work. The grip looks more comfortable than on other compacts and the button layout appears simple and practical.
The 3 available models are the DP1 Quattro with a 19mm lens (35mm equivalent: 28mm), the DP2 Quattro with a 30mm lens (35mm equivalent: 45mm) and the DP3 Quattro with a 50mm lens (35mm equivalent: 75mm). Each camera features the same sensor with 29 effective MP and records JPEG and RAW files on SD/SDHC/SDXC card.
[PRODUCT HIGHLIGHT: Lightroom Presets & Workshop v5]
It will be interesting to see how the Quattro compares to older Sigma cameras and indeed comparable models from other manufacturers. It is good to see new developments in the Foveon department. What are your thoughts on the new Quattro? Comment below.
Price and availability of all 3 cameras have yet to be announced.
For detailed info visit the company's website.
Carsten Krieger
Carsten Krieger is a freelance photographer based in Ireland. He is covering a wide range of subjects including architecture/interior, portrait and food (and with a proper supply of of tea and chocolate he is able to shoot about anything), but his true love is landscape photography. He has published and contributed to a number of books on Ireland's landscape, nature and heritage and has written for various print and online magazines.