What lens company tends to get the most hype when a new lens is announced? 3 years ago I'd have said Canon, but today there's evidence to suggest it's Sigma. Their ART line created a stir, and with a combination of performance and lower price point, it makes sense everyone gets excited. Sigma is now capitalizing on that by announcing to us they'll be revealing a new lens later this month at Photo Plus Expo in NYC.
Frustratingly, however, that's all they've said on the matter. There's no hint at what it will be. What format, style, and line are anyone's best guess. Having said that, we can perhaps narrow it down.
Sigma's ART line is rather fleshed out at this point, with a 14mm prime on the wide end, with the standard 35, 50, 85 primes, up through 135, and of course a set of capable zooms like the 12-24, 18-35, 50-100, and the latest 24-70 ART (see our review here). So what's left?
Well, this line of thinking is predicated on the notion they'll use the photo-centric occasion to release another photo lens, but the sort of glaring omission here is the 70-200. And a 70-200 2.8 ART would be, at this point, sensible. Every other manufacturer of note has a new and good one, including Tamron with their critically well received SP 70-200 f/2.8 Di VC USD G2. Sure it's a mouthful to say, but a joy to use.
If Sigma does reveal a 70-200, whether it would be an ART line lens is up for debate, as Sigma somewhat frequently uses SPORT to denote high performance longer glass, but given the ubiquity of this focal range with portrait and wedding photographers, bestowing the ART moniker seems likely.
And that's not all, as at the show Sigma will "showcase its full line up of Sigma Global Vision lenses", as well as have a number of pros on-hand to discuss image making with the various lenses in various Genres, and that includes a special presentation with Jen Rozenbaum. Jen will deliver a PPE Master Class on "How to make every woman look amazing," sharing with attendees her experience in boudoir photography, providing top tips and secret tricks – from wardrobe to posing – that flatter all women.
I'll be meeting with Sigma at PPE to sit down and get more details and hands on, all of which we'll share with you from the show. If there are things you'd like to know, drop us a line. Or, if you'll be there, come by and say hi. Check out more about PPE below: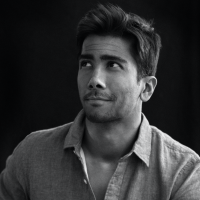 Kishore Sawh
A photographer and writer based in Miami, he can often be found at dog parks, and airports in London and Toronto. He is also a tremendous fan of flossing and the happiest guy around when the company's good.